CUSTOMER CARE
State Farm® is there for you
whenever, wherever.
Take State Farm with You on Your Mobile Device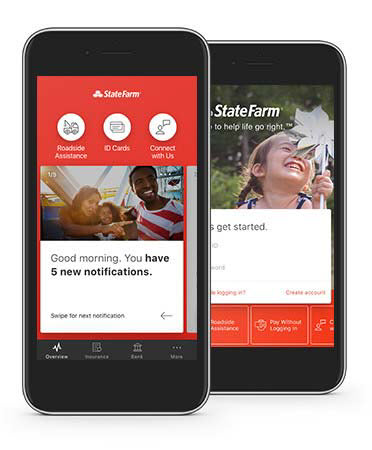 State Farm mobile
We've sunset our Pocket Agent® app. Meet our new app – State Farm mobile – still great features with a new look! View details
Register your account in the app.
View your insurance card.*
Submit a claim.
Access your State Farm Bank® account.
Locate a State Farm agent and more.
Text SFAPP to 78836 to get a link to download the app.
Drive Safe & Save™ Mobile
Earn a discount with Drive Safe & Save. State Farm customers in select states can enroll in Drive Safe & Save by downloading this free mobile app. Using the Bluetooth beacon provided and your eligible smartphone, we'll collect basic information about your driving to calculate a discount on your auto insurance premium. View details

Steer Clear®
Steer Clear is an interactive part of our comprehensive discount program to help young drivers reinforce positive driving behavior and avoid the hazards of the road. Drivers under age 25 who complete the Steer Clear Safe Driver Discount Program may be eligible for discounts on their State Farm auto insurance. View details
Disclosures
*This may not be accepted by law enforcement officials as an insurance ID card in your state.