Download Mobile Apps
Let Us Help Keep You Safe
Download Our Steer Clear® App
Drivers Under 25, This is for You
Steer Clear Mobile is an interactive part of our comprehensive discount program to help young drivers reinforce positive driving behavior and avoid the hazards of the road. Drivers under age 25 who complete the Steer Clear Safe Driver Discount Program may be eligible for discounts on their State Farm® auto insurance.
Features
Watch videos about other drivers' experiences
Take a safe driver pledge
Complete self assessments of your driving
Log trips necessary to receive the Steer Clear Safe Driver Discount
Log trips for state requirements: hours, weather, location, etc.
Email your driving logs
Contact your State Farm agent or find one close by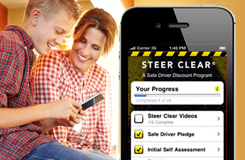 We Want to Hear From You
Share ideas for application enhancements through the comments feature in the app store, or visit the State Farm Twitter and Celebrate My Drive pages for safe teen driving tips pages.
Disclosure
* The Steer Clear® Safe Driver Discount is not available in California, Hawaii, North Carolina, Massachusetts, Rhode Island or Alberta and New Brunswick, Canada.