FINANCIAL TOOLS & RESOURCES
There for You Whenever, Wherever
Take State Farm® with You Everywhere You Go — with State Farm Mobile
Whenever and wherever, we're there for you.
Day or night, from your mobile phone or tablet device, we're always ready to help. From claims and driving tips to insurance coverage and financial planning, we'll get you there through State Farm Mobile.
Pocket Agent®
With Pocket Agent, you can find an agent, report a claim, make a bank deposit, do your banking, get roadside help, and a whole lot more!
Steer Clear® Mobile
Like discounts? If you're under 25, this app assists you with your journey in earning the Steer Clear discount.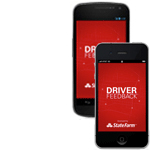 Driver Feedback™
Drive smarter. State Farm Driver Feedback scores your driving and gives you tips to help you drive even better.
MoveTools®
Stop stressing and start planning with MoveTools, a tablet app developed specifically to help you manage your move. Keep it handy and use its interactive features to help you pack up, move out, and move in .