SPORT & LEISURE VEHICLES
Your Boat Deserves Great Coverage
Get Caught up on Boat Insurance
Our boat insurance can help protect you against the risks of owning and operating your boat, its motor, and the trailer. On top of that, boat insurance may provide coverage against liability lawsuits and medical payments. Talk with a State Farm® agent about the specifics and to get a rate.

Boat Insurance: What's Covered?
Physical Damage
Insure your boat against damage and loss caused by common risks, such as sinking, fire, storms, theft, and collision. The property usually covers the boat hull, boat motor(s), described boat equipment, and the boat trailer if requested.
Property Coverage Examples
Boat, motor, trailer
Equipment permanently attached to the boat
Anchors
Oars
Electric trolling motors
Extra fuel tanks
Tools
Detachable canopies
Seat cushions
Life preserves
Ski and their tow ropes
Dinghies
Our boat insurance policy provides for replacement cost coverage on repairs. Total loss claims are settled based on policy coverage limits.
Types of Boats We Insure
Runabout/Sport Boats
Cruiser/Yachts
Sailboats
Bass Boats
Jet Skis
Houseboats
Kayak/Canoes
Types of Perils We Insure Against
Sinking
Fire
Theft
Storms
Collision
Capsizing
Explosion
Stranding
Boat Liability Insurance Coverage
Boat liability insurance offers coverage if your boat causes injury to others or damage to other boats, docks, or structures. Injury or damage can be due to direct contact with your vessel or situations caused by your vessel, like large wakes. Boat liability coverage may provide protection against lawsuits, including the payment of settlements and legal fees.
Additional Coverages
Additional coverages are automatically included in your base contract. If you have questions or other insurance needs, contact your agent to find out what options are available to you.
Newly Acquired Boat
Covers your newly acquired watercraft for damage caused by an insured loss, subject to policy conditions.
Temporary Repairs
If damage is caused by a loss insured, we cover reasonable repairs incurred to protect covered property from further damage.
Emergency Service
Pays up to a certain amount for reasonable costs that you incur resulting from specified emergency service to your boat, motor, or boat trailer. Please reference your policy for details.
Wreck Removal
Pays the reasonable expense you incur for any attempted or actual raising, removal, or destruction of the wreck of your boat when damage is caused by an insured loss and removal or destruction is required by law.
Optional Coverages
In July 2018, new optional coverage endorsements were introduced.  Optional overages are available to help meet your individual boating needs.
Boat Rental Liability
Provides you with peace of mind that you have proper liability insurance when driving a rental boat on a short-term basis, such as a vacation.
Boat Rental Reimbursement and Liability
If your boat is being repaired because of damage that's covered by your insurance policy, Boat Rental Reimbursement will help pay the cost to rent a boat. You'll also have the proper liability insurance while driving the rental.
Boat Rented to Others
The Boat Rented to Others Endorsement can help pay for property damage, injury and liability claims made against you if your boat is in an accident when rented to others when rented for personal, non-business use.
Fishing Tournament Fee Reimbursement
If you're unable to participate in a fishing tournament due to a covered loss to the boat, an auto accident involving the towing vehicle en route, or a family emergency, the Fishing Tournament Fee Reimbursement endorsement will reimburse you for non-refundable entry fees.
Incidental Commercial Fishing
Extends your property and liability insurance if your boat is used for incidental commercial fishing. Business liability is limited to watercraft liability.
Uninsured/Underinsured Watercraft Coverage
Uninsured watercraft insurance helps pay your medical expenses if you're in an accident caused by an owner or operator who doesn't have boat liability insurance or has inadequate liability coverage limits.
How Much Is Boat Insurance?
The best way to lower your boat insurance premiums is to become a safer boater. For example, you could earn a discount by completing an approved boating safety course. Talk to a State Farm agent to find the discounts available to you.
Need coverage for other items?
Talk to your agent about a Personal Articles Policy to cover items not included in the Boat policy.
Boat Loans From State Farm Bank®
If you're looking to finance your next boat, State Farm Bank offers competitive rates and no application fees.
Boater Safety Discount
Save 10% by completing a qualifying safety course. Visit Boat Ed to view online safety courses and tests to help you prepare for safe and responsible boating. Talk to your agent for more information on what may qualify for the Boater Safety Discount.
Simple Insights®
Take advantage of what we've learned! Simple Insights® offers great tips and advice to help you maintain and enjoy your sport, leisure or powersport vehicle to the fullest.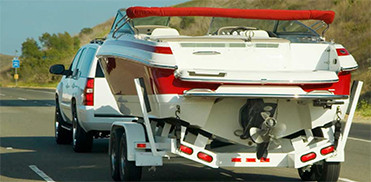 Before you take your boat out, take a quick look at some great boat trailer safety tips.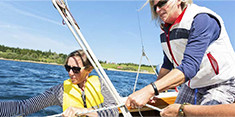 Here's an easy way to help you and your friends get caught up on boating safety.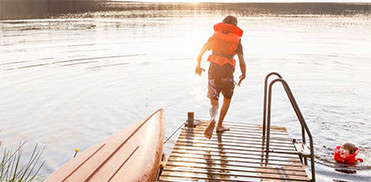 We've got great tips to help you have fun and stay safe on the water.
This is only a general description of available coverages and is not a statement of contract. All coverages are subject to policy provisions and applicable endorsements. For further information, see your State Farm agent.
State Farm (including State Farm Mutual Automobile Insurance Company and its subsidiaries and affiliates) is not responsible for, and does not endorse or approve, either implicitly or explicitly, the content of any third party sites hyperlinked from this page. State Farm has no discretion to alter, update, or control the content on the hyperlinked, third party site. Access to third party sites is at the user's own risk, is being provided for informational purposes only and is not a solicitation to buy or sell any of the products which may be referenced on such third party sites.
State Farm Bank, F.S.B., Bloomington, Illinois offers deposit and loan products. Other insurance, securities or investment products are offered by affiliate companies.
State Farm Bank ("Bank") is a Member FDIC and Equal Housing Lender. NMLS ID 139716. The other products offered by affiliate companies of State Farm Bank are not FDIC insured, not a State Farm Bank obligation or guaranteed by State Farm Bank, and may be subject to investment risk, including possible loss of principal invested. The Bank encourages any interested individual(s) to submit an application for any product(s) offered by the Bank. We also encourage you to obtain information regarding the Bank's underwriting standards for each type or credit or service offered by visiting statefarm.com® or by contacting the Bank at 877-SF4-BANK (877-734-2265). If you are deaf, hard of hearing, or do not use your voice to communicate, you may contact us via 711 or other relay services. To apply for a Bank product, you may also see your participating State Farm agent.
State Farm Fire and Casualty Company
Bloomington, IL

State Farm General Insurance Company
Bloomington, IL

State Farm Florida Insurance Company
Winter Haven, FL