Electric car insurance
If you are thinking about an electric vehicle and have questions or are wondering about EV insurance, we have some answers.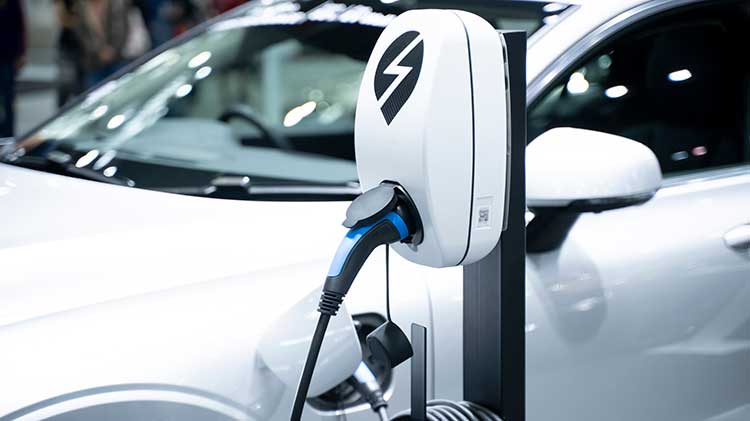 Answers to common electric vehicle insurance questions
Sales of electric cars are increasing as buyers look for more eco-friendly vehicles and legislation is passed to curb emissions. Vehicle battery range and charging options are progressing every year, and that, combined with the variety of electric vehicle models being made, makes these vehicles a viable option over traditional gas-powered ones.
Laws and energy policies are changing
On a national level, the Biden Administration recently set a goal that 50% of new car sales should be electric cars by 2030. In addition, states are increasingly making the push to get more EV cars and trucks on the road. California's governor issued an executive order requiring all new cars sold in that state be zero-emission vehicles by 2035. Some states offer EV tax rebates up to $5,000, such as Colorado, Connecticut, Delaware, Maryland, California, Massachusetts, Oregon and New York.
Are electric cars more expensive to insure?
Yes, there are several factors that insurance companies consider that make electric cars more expensive to insure. Here are three key reasons why it is more expensive to insure an electric car:
Higher purchase price – Since electric vehicles typically cost more to buy, they cost more to insure.
More expensive to repair – If the battery is damaged, the battery replacement could cost $5,000 to $15,000, which doesn't include the cost of labor.
Higher EV accident payout – Insurers typically have a higher payout with EV accidents. Even a small accident could be costly if the battery is involved. Additionally, since the technology is newer, there are fewer technicians trained to fix them.
What happens if my electric car runs out of power?
Maybe you needed to leave in a hurry, or you didn't find a charging station along your route, but your electric car needs a charge. If your State Farm® auto policy includes emergency road service, your insurance could pay the fair cost for help, such as towing. It's also possible the roadside service provider has a portable electric car charger to get you running again. 
Is my home charging station covered?
Your auto policy comprehensive and collision coverages can include electric vehicle charging stations that are common to the use of the vehicle.
Will having a charging station in my home affect my homeowners insurance?
No, since these stations typically run on 110 or 220 volts which is standard for most residences; however, installation may require an electrician if you need an additional breaker.
Is coverage for an EV car or truck different?
Essentially, the insurance coverage is available in all states and is similar for both electric cars and those with gas or diesel engines.
Typical auto policy coverages can include:
Liability – Pays for damages due to bodily injury and property damage to others for which you are responsible.
Medical payments – Pays medical and funeral expenses for bodily injury sustained by a covered person in a car accident.
Uninsured motor vehicle – Pays for bodily injury damages when an insured is injured in a car accident caused by another person who does not have any liability insurance, or who has liability insurance but whose limits are less than the limits chosen for this coverage.
Uninsured motor vehicle property damage – Pays for property damage to your car if it is damaged in an caused by an uninsured driver (not available in all states).
Comprehensive – Pays for a covered car that is stolen or damaged by causes other than collision or upset (fire, wind, hail, flood, earthquake, theft, vandalism, hitting a bird or animal). A deductible is not required.
Collision – Pays for a covered car that is damaged by collision with another object or by upset of the car. A deductible is required.
Additional auto coverages include:
Emergency road service – This coverage pays the fair cost for:

Mechanical labor for up to one hour at the place of breakdown
Towing to the nearest place where repairs can be made
Towing the car out if it's stuck on or next to a public road
Delivery of gas, oil, battery or change of tire, but not the cost of such item
Locksmith labor for up to one hour to unlock a covered car if its key is lost, stolen or locked inside the car

Car rental and travel expenses

Car rental pays up to the amount you choose while your car is not drivable due to a covered comprehensive or collision loss.
Travel expenses pays up to $500 for the following incurred expenses for all persons when your car is not drivable as a result of a loss that occurs more than 50 miles from home: meals, lodging, transportation home or on to your destination and the return trip to pick up your car.
Rental car provides repayment of deductible amount expenses. It pays up to $500 for a deductible for which you may be responsible if you have an accident in a rental car.
Are discounts available?
State Farm has several possible discounts for auto insurance that would also include policies on EV cars. To see if you qualify for those discounts or if the discounts are available in your state, please visit with a State Farm agent to discuss further. Some of the discounts offered to qualifying policyholders include:
California good driver discount – If all operators of your vehicle are "good drivers," as defined by law, you will receive a 20% premium discount on all coverages.
Multiple line discount – If you have qualifying insurance on your primary residence and auto.
Steer Clear® – For teens and drivers to improve their skills and earn a discount.
Good student discount – Drivers under the age of 25, in high school, college, university or a college graduate, may be eligible.
Eco-friendly tips
As a green neighbor, we have more environmentally responsible articles for you to consider:
Use less gas with these fuel efficiency tips
Ways to bump up your plastic recycling
Ideas for an eco-friendly holiday season
Energy efficient light bulbs: What are the differences?
Ideas to celebrate Earth Day and Arbor Day