Education Savings Plans
State Farm® 529 Savings Plan - All Equity Static Option
All Equity Static Investment Option seeks to provide long-term growth by investing 94.75% of its assets in diversified investments of domestic and international equity funds, and 5.25% real estate funds.
Portfolio Composition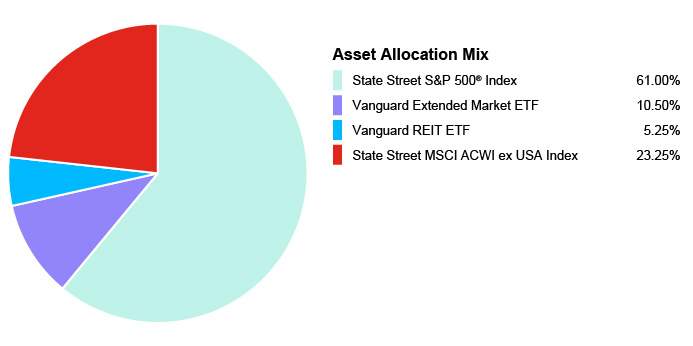 Strategies: The Investment Option invests in funds according to a fixed formula that typically results in an allocation of 71.5% domestic equity funds, 5.25% real estate funds, and 23.25% international equity funds. The Investment Option manages cash flows to maintain the stated asset allocation. The stock holdings in the underlying investments consist primarily of large-cap U.S. stocks and to a lesser extent, mid- and small-cap U.S. stocks and foreign stocks.
Fees & Features
Risk Disclosures
The State Farm 529 Savings Plan (the "Plan"), is sponsored by the State of Nebraska and administered by the Nebraska State Treasurer. The State Farm 529 Savings Plan offers a series of investment options portfolios within the Nebraska Educational Savings Plan Trust (which) offers other investment portfolios not affiliated with the State Farm 529 Savings Plan. The State Farm 529 Savings Plan is intended to operate as a qualified tuition program to be used only to save for qualified higher education expenses, pursuant to Section 529 of the U.S. Internal Revenue Code.
An investor should consider the Plan's investment objectives, risks, charges and expenses before investing. The Program Disclosure Statement at statefarm.com® which contains more information, should be read carefully before investing.
Investors should consider before investing whether their or their beneficiary's home state offers any state tax or other state benefits such as financial aid, scholarship funds, and protection from creditors that are only available for investments in such state's qualified tuition program and should consult their tax advisor, attorney and/or other advisor regarding their specific legal, investment or tax situation.
Investing involves risk, including potential for loss.
The stocks of small companies are more volatile than the stocks of larger, more established companies. Foreign investments involve greater risks than U.S. investments, including political and economic risks and the risk of currency fluctuations.

You could lose money by investing in in this investment option. Although a money market fund in which your investment option invests (the underlying fund) seeks to preserve its value at $1.00 per share, the underlying fund cannot guarantee it will do so. An investment in this investment option is not insured or guaranteed by the Federal Deposit Insurance Corporation or any other government agency. The underlying fund's sponsor has no legal obligation to provide financial support to the underlying fund, and you should not expect that the sponsor will provide financial support of the underlying fund at any time.
Neither State Farm® nor its agents provide tax or legal advice.
AP2018/07/0892