COMMUNITY
Your Safety Matters To Us
At Home or on the Road — Safety Awareness is Important
Safety Awareness
State Farm® partnerships and featured programs promote safety on the road and at home.
Celebrate My Drive® Powered by State Farm

Celebrate My Drive® Powered by State Farm
Auto Safety
We take our role as a good neighbor seriously when it comes to keeping you and your family safe on the road. Our relationships and programs promote child passenger safety, teen driver safety, seat belt safety and safe and sober driving.
Home & Recreation Safety
State Farm is committed to protecting our neighbors. We lead the industry with educational programs and relationships focused on keeping you and your family safe in and around your home.
Featured Programs
Celebrate My Drive
Celebrate My Drive encourages teens to make positive choices as they start driving, and State Farm is proud to help them stay safe as they explore the road ahead. High schools registered on celebratemydrive.com by Oct. 17 will compete to earn $3.25 million in grants. Students age 14 and over will generate support for their high schools by making safe driving commitments online during U.S. National Teen Driver Safety Week, Oct. 18-26. Register your school today or learn more by visiting the Facebook page!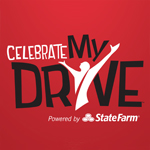 The Learning Center
Visit State Farm's Learning Center to help you make informed decisions about insurance, car and home maintenance, finances, safety, and more.