State Farm® Companies Foundation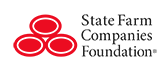 The Foundation supports initiatives, scholarships and associate-directed programs that improve communities where we live and work. It offers grants for volunteerism and matching gifts to charitable organizations, as well as two- and four-year colleges and universities.
Scholarship programs
State Farm Companies Foundation provides funding to national, established scholarship programs, such as National Merit Scholarship Corporation, in place of offering scholarships directly to individuals.
Matching Gift program
Through this program, the Foundation bolsters State Farm associates' support of education institutions and nonprofits by matching their contributions to qualifying organizations.
Good Neighbor Grant® program
State Farm associates are encouraged to help their communities by volunteering with qualifying organizations. The Good Neighbor Grant Individual and Team Programs are great ways for associates to give back.
State Farm and the State Farm Companies Foundation value diversity and inclusiveness. Charitable funding is intended to advance access, equity, and inclusiveness while discouraging harmful discrimination based on age, political affiliation, race, color, national origin, ethnicity, sex, disability, sexual orientation, gender identity, or religious beliefs.
State Farm and the State Farm Companies Foundation, in its discretion, reserve the right to decide whether a charitable contribution will be made. State Farm and the State Farm Companies Foundation reserve the right to discontinue or change the grant programs at any time without notice.
State Farm (including State Farm Mutual Automobile Insurance Company and its subsidiaries and affiliates) is not responsible for, and does not endorse or approve, either implicitly or explicitly, the content of any third party sites hyperlinked from this page. State Farm has no discretion to alter, update, or control the content on the hyperlinked, third party site. Access to third party sites is at the user's own risk, is being provided for informational purposes only and is not a solicitation to buy or sell any of the products which may be referenced on such third party sites.