Auto
Prepare to Put Your Teen Driver Behind the Wheel
Car Insurance for Teens
Learning to drive is an exciting time for a teenager. But finding the right car insurance for teen drivers can be a challenge. They're more likely to have accidents, and higher insurance premiums reflect the additional risk.
Fortunately, State Farm® offers competitive rates on car insurance for teen drivers, with excellent service that meets the needs of teenagers, and their parents.
State Farm also offers discounts to help reduce teen driver insurance costs, and safe driving tips to help keep them safe.
Talk to an agent today or get an online car insurance quote.
See All
Discounts Available in your State
Add a Teen Driver to Your Car Insurance Policy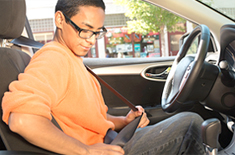 Help Keep Your Teen Driver Safe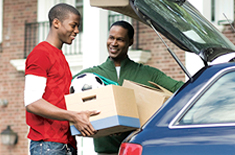 Inexperience and immaturity can lead to risky driving, but here are 6 things you can do to help make your teen safer on the road.

Steer Clear® helps drivers under the age of 25 improve their driving skills, and possibly reduce their insurance costs, too.1
 
Help your teen develop safe driving habits with house rules that could reduce speeding and carelessness.

It's not always a good idea for newly-licensed drivers to have their own cars. Find out why, and what to do instead.
Insurance Discounts for Teen Drivers
State Farm offers several discounts that may help teen drivers lower their car insurance costs. Ask a State Farm agent which discounts you, or your teen, might qualify for.
Good Student Discount
You could save up to 25% if your teen driver gets good grades! The savings may last until your teen turns 25.
Driver Training Discount
You could qualify for a discount if all the operators of your vehicle under the age of 21 complete an approved driver education course.
Student Away at School Discount
If one of the operators of a covered vehicle is a student under the age of 25 who moves away to school and only uses the car while at home during school vacations and holidays, you could be eligible for this discount.
Discounts Based on Safe Driving Habits
Our Steer Clear and Drive Safe & Save™ programs could help lower your car insurance costs while teaching young motorists how to drive more safely.
Simple Insights® by State Farm
Take advantage of what we've learned through the years in Simple Insights®.
Disclaimer
1 Steer Clear Safe Driver Discount Auto Insurance is not available in every state. For additional information, please contact your State Farm agent. Discounts and their availability may vary by state and eligibility requirements. Not all vehicles or drivers are eligible for discounts
2 Drive Safe & Save availability and discounts may vary by state and coverages selected. In Maryland, only mileage information is used in discount calculation. A discount may not be available in California and North Carolina, depending on individual facts and circumstances.
State Farm Mutual Automobile Insurance Company
State Farm Indemnity Company
Bloomington, IL
State Farm County Mutual Insurance Company of Texas
Richardson, TX