Car insurance for teens and new drivers
Learning to drive is an exciting time for a teenager. But it can also be expensive. Fortunately, State Farm® offers competitive rates on
car insurance
for teen drivers. Not to mention excellent service, safe-driving tips, and savings as much as 25%
1
to help reduce teen driver insurance costs.
Save even more money with auto insurance discounts
Drive Safe & SaveTM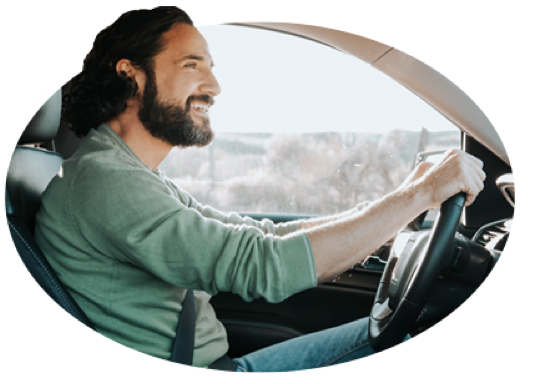 Steer Clear®
Steer Clear®
Under 25 years of age without any at-fault accidents or moving violations within the past 3 years? Save as much as 15%.
3
Explore Steer Clear
Seeking more than new driver savings?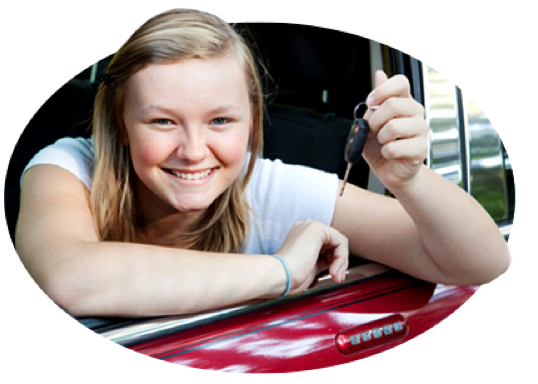 Seeking more than new driver savings?
State Farm offers numerous ways to save when it comes to auto insurance.
See more savings
Add a teen driver to your car insurance policy
Teenage car insurance discounts and savings
State Farm offers several discounts that may help teen drivers lower the cost of car insurance. Check with a State Farm agent for the discounts you, or your teen, might qualify.
Good Student Discount
Save up to 25% if your teen driver gets good grades. The savings may last until your teen turns 25. Their most recent report card might be the key to lowering their premium. Homeschoolers may also qualify with other options, such as submitting evidence they've taken certain national standardized tests administered within the past 12 months and ranked in the upper 20%. Ask a State Farm agent for requirement details.
Driver Training Discount
Qualify for a discount if all the operators of your vehicle under the age of 21 complete an approved driver education course.
Student Away at School Discount
Learn if you can save if one of the operators of a covered vehicle is a student under the age of 25 who moves away to school and only uses the car while at home during school vacations and holidays.
Other options to reduce young adult insurance premiums
If right for your situation, you can also lower your premium by:
Purchasing a safe car for your teenager
Reducing or removing comprehensive/collision
coverage if the teen's car is low value
Increasing the deductible on their coverage
Teen driver FAQs
You've got enough on your mind with a new driver in the family. We're here to help with some answers.
Do I have to add my teenager to my car insurance?
It's neither a good idea nor legal for a teenager to drive a car without insurance. You can have your teenager get their own policy, but it will likely be much higher than a rate they could have received if they had been added to a parent's policy. They also will not be eligible for any multi-policy discounts.
A teen's learner's permit will likely have little impact on premiums because of the required adult supervision, but it's still important to inform your agent before a teen gets their preliminary permit.
It is also vital to talk to your State Farm agent when a family member obtains a license in order to make sure the new driver is adequately covered. Not ensuring proper coverage could lead to complications if the new driver has an accident and needs to file a claim. Your agent can help provide options for your particular state so you can make the appropriate policy choices.
How much is teen car insurance?
The premium for young adult or teen car insurance is determined by a variety of factors that include your coverages, deductible, state you live in, car value, available discounts and several other considerations. To find out more, get a quote today or talk to a State Farm agent.
See all discounts available in your state
Got more questions about vehicle insurance?
Teen driving tips
Safety tips to help keep your teen and others safe and knowledgeable about the rules of the road.
Teen driving 101
Before letting your teenager get behind the wheel, go over this driver skills checklist.
What to do if pulled over
It's likely to happen, so advise your children what to do when pulled over by police.
1 See our Good Student Discount, which if your student gets good grades could be has high as 25% and last until they are 25. Your teen's most recent report card might be the key to lowering their premium.
2 Drive Safe & Save availability and savings may vary by state and coverages selected. In Maryland, only mileage information is used in discount calculation. Savings may not be available in California and North Carolina, depending on individual facts and circumstances.
3 Steer Clear Safe Driver program is not available in every state. For additional information, please contact your State Farm agent. Savings and their availability may vary by state and eligibility requirements. Not all vehicles or drivers are eligible for savings.
Various discounts and savings do not apply in every state.
The information in this article was obtained from various sources not associated with State Farm® (including State Farm Mutual Automobile Insurance Company and its subsidiaries and affiliates). While we believe it to be reliable and accurate, we do not warrant the accuracy or reliability of the information. State Farm is not responsible for, and does not endorse or approve, either implicitly or explicitly, the content of any third party sites that might be hyperlinked from this page. The information is not intended to replace manuals, instructions or information provided by a manufacturer or the advice of a qualified professional, or to affect coverage under any applicable insurance policy. These suggestions are not a complete list of every loss control measure. State Farm makes no guarantees of results from use of this information.
State Farm Mutual Automobile Insurance Company
State Farm Indemnity Company
Bloomington, IL
State Farm County Mutual Insurance Company of Texas
Richardson, TX