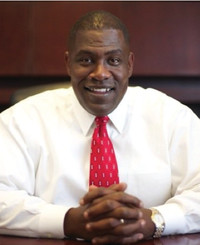 STATE FARM® INSURANCE AGENT,

TITUSVILLE

, FL
Robin Fisher
Robin L Fisher Ins Agcy Inc
Would you like to get a quote?
Office Details:
Street Address:
1625 Garden Street
Titusville
,
FL
32796-3271
Landmark:
One Block West of Dixie Crossroads Restaurant.
Office Hours (EST):
Other Hours by Appointment
Need help with a claim?
Start or track your claim online, or with the State Farm® mobile app.
Need to pay a bill?
Pay insurance bills fast and manage them easily.
About Me:
32 yr. St. Farm Agent
President Club/ Legion Of Honor / Crystal Excellence
31 year Ambassador Travel Qualifier
University of Florida - BS in Public Relations
Former Brevard County Commissioner -District 1
Formerly elected to Palm Bay & Titusville City Council
Serve on the, Central Florida YMCA Board of Directors
JA Business Hall of Fame Laureate
Former Brevard Community College Trustee
Finalist for 2013 Citizen of the Year Florida Today
Former player University of Florida football team.
National Association of Insurance & Financial Advisors
Our Mission:
Our mission is to help people manage the risks of everyday life, recover from the unexpected and realize their dreams.
Our Team:
Tammy Nienhuis
Customer Relations Representative
Christine Northcutt
Account Manager
Amy Christine Gray
Customer Service Representative
Agent's Credentials and Licenses:
We're Hiring
It could be the beginning of an exciting career.
This opportunity is about potential employment with an independent contractor agent who solicits application for State Farm products and services, and does NOT result in employment with any of the State Farm Companies. The employment selection decision, terms and conditions of employment (such as compensation and benefits) are all determined solely by the independent contractor agent.
Disclosures
Investors should carefully consider investment objectives, risks, charges and expenses. This and other important information is contained in the fund prospectuses and summary prospectuses which can be obtained by visiting the prospectus page on statefarm.com. Read it carefully. AP2020/03/0336
Securities distributed by State Farm VP Management Corp.
Securities Supervisor address: 7401 Cypress Gardens Blvd , Winter Haven, FL 33884-4132 Phone: 863-318-2972
Life Insurance and annuities are issued by State Farm Life Insurance Company. (Not Licensed in MA, NY, and WI) State Farm Life and Accident Assurance Company (Licensed in New York and Wisconsin) Home Office, Bloomington, Illinois.
Pet insurance products are underwritten in the United States by American Pet Insurance Company, 6100-4th Ave S, Seattle, WA 98108 Please visit AmericanPetInsurance.com. For additional information and disclosures concerning Pet insurance please see Pet Insurance From State Farm® and Trupanion®.
State Farm VP Management Corp. is a separate entity from those State Farm entities which provide banking and insurance products. Investing involves risk, including potential for loss.
Neither State Farm nor its agents provide tax or legal advice. Please consult a tax or legal advisor for advice regarding your personal circumstances.