Close
Open
COVID-19 Response Update
Because we're staying home more and driving less, we are working to reduce auto rates in every state! Learn more about this and our Good Neighbor Relief Program Covid-19 response.
Please contact our office if you have any questions. Due to COVID-19, we've adjusted how we work, but you can always call us or click on Email Agent and complete the form to send our office an email.
We're here for you and want to help.
STATE FARM® INSURANCE AGENT,

BOZEMAN

, MT
Brad Daws
Brad W Daws Insurance Agcy Inc
Would you like to get a quote?
Office Details:
Street Address:
1716 W Main Street
Suite 2
Landmark:
Can't miss the BOBCAT BRONZE at the BEAVERPOND Plaza, next door to Bozeman Audi, in Bozeman, MT.
Office Hours (MST):
Mon-Friday 9:00am to 5:00pm
Need help with a claim?
Start or track your claim online, or with the State Farm® mobile app.
Need to pay a bill?
Pay insurance bills fast and manage them easily.
About Me:
SAVE by combining Auto & Renters or Home Insurance.
Quick & free quotes for Auto & Renters Insurance
Look for the HUGE BOBCAT Bronze in front of office.
Graduate; Montana State University (Bozeman) BS
24/7 service. Stop in... call in... or click in.
Member: Bozeman & Big Sky Chamber of Commerce.
Quick & free quotes for HOME INSURANCE.
Our 6000 sq/ft office, uses the latest technology.
Lifetime Member of State Farm President's Club.
Co-Captain & All-American of MSU Football Team.
Hobbies include; fly fishing, skiing & golf.
Second Generation State Farm Agent.
Lifetime resident of Bozeman
Our Mission:
The Brad W. Daws - State Farm office is here to help our customers manage the risks of everyday life and to be the preferred choice for your Bozeman, MT and SW Montana insurance needs. My licensed team of 11 professionals has over 125 years of combined experience. A unique feature of our team is that each member is focused and very knowledgeable in a particular area, such as Auto, Home, Renters, Business, Life & Health Insurance. Stop in, Call in, or Click in.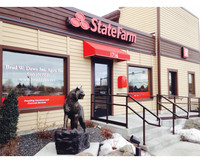 Agent's Credentials and Licenses:
We're Hiring
It could be the beginning of an exciting career.
This opportunity is about potential employment with an independent contractor agent who solicits application for State Farm products and services, and does NOT result in employment with any of the State Farm Companies. The employment selection decision, terms and conditions of employment (such as compensation and benefits) are all determined solely by the independent contractor agent.
Disclosures
State Farm Bank , F.S.B., Bloomington, Illinois, is a Member FDIC and Equal Housing Lender. NMLS ID 139716. The other products offered by affiliate companies of State Farm Bank are not FDIC insured, not a State Farm Bank obligation or guaranteed by State Farm Bank, and may be subject to investment risk, including possible loss of principal invested. The Bank encourages any interested individual(s) to submit an application for any product(s) offered by the Bank. We also encourage you to obtain information regarding the Bank's underwriting standards for each type of credit or service offered by visiting statefarm.com or by contacting the Bank at 877-SF4-BANK (877-734-2265). Callers who are hearing or speech impaired should dial 711 or use a preferred Telecommunications Relay Service. To apply for a Bank product, you may also see your participating State Farm agent.



Life Insurance and annuities are issued by State Farm Life Insurance Company. (Not Licensed in MA, NY, and WI) State Farm Life and Accident Assurance Company (Licensed in New York and Wisconsin) Home Office, Bloomington, Illinois.
State Farm VP Management Corp. is a separate entity from those State Farm entities which provide banking and insurance products. Investing involves risk, including potential for loss.
Neither State Farm nor its agents provide tax or legal advice. Please consult a tax or legal advisor for advice regarding your personal circumstances.