STATE FARM® INSURANCE AGENT,

BOZEMAN

, MT
Brad Daws
Brad W Daws Insurance Agcy Inc
Would you like to get a quote?
Office Details:
Street Address:
1716 W Main Street
Suite 2
Landmark:
Can't miss the BOBCAT BRONZE at the BEAVERPOND Plaza, next door to Bozeman Audi, in Bozeman, MT.
Office Hours (MST):
Mon-Friday 9:00am to 5:00pm
Need help with a claim?
Start or track your claim online, or with the State Farm® mobile app.
Need to pay a bill?
Pay insurance bills fast and manage them easily.
About Me:
Also serving the greater Big Sky, MT area
SAVE by combining Auto & Renters or Home Insurance.
Look for the HUGE BOBCAT Bronze in front of office.
Quick & free quotes for Auto & Renters Insurance
Graduate; Montana State University (Bozeman) BS
24/7 service. Stop in... call in... or click in.
Member: Bozeman & Big Sky Chamber of Commerce.
Quick & free quotes for HOME INSURANCE.
Our 6000 sq/ft office, uses the latest technology.
Lifetime Member of State Farm President's Club.
Co-Captain & All-American of MSU Football Team.
Hobbies include; fly fishing, skiing & golf.
Second Generation State Farm Agent.
Lifetime resident of Bozeman
Our Mission:
The Brad W. Daws - State Farm office is here to help State Farm customers manage the risks of everyday life and to be the preferred choice for your Bozeman, MT and SW Montana insurance needs (including the Big Sky, MT area). My licensed team of 11 professionals has over 125 years of combined experience. A unique feature of our team is that each member is focused and knowledgeable in a particular area, such as Auto, Home, Renters, Business, Life & Health Insurance. Stop in, Call in, or Click in.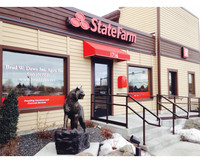 Our Team:
Annie Albert
Multiple Line Representative
Ashlie Hultman
Account Manager
Nicholas Rainey
Multiple Line Representative
Alex Ruiz
Account Representative
Forrest Bagley
Insurance Account Representative
Colton March
Office Representative
Carey Blecha
Account Representative
Eva Barbisan
Account Representative
Agent's Credentials and Licenses:
We're Hiring
It could be the beginning of an exciting career.
This opportunity is about potential employment with an independent contractor agent who solicits application for State Farm products and services, and does NOT result in employment with any of the State Farm Companies. The employment selection decision, terms and conditions of employment (such as compensation and benefits) are all determined solely by the independent contractor agent.
Disclosures
Deposit products offered by U.S. Bank National Association. Member FDIC.
Life Insurance and annuities are issued by State Farm Life Insurance Company. (Not Licensed in MA, NY, and WI) State Farm Life and Accident Assurance Company (Licensed in New York and Wisconsin) Home Office, Bloomington, Illinois.
Pet insurance products are underwritten in the United States by American Pet Insurance Company, 6100-4th Ave S, Seattle, WA 98108. Please visit AmericanPetInsurance.com. For additional information and disclosures concerning Pet insurance please see Pet Insurance From State Farm® and Trupanion®. State Farm Mutual Automobile Insurance Company, its subsidiaries and affiliates, neither offer nor are financially responsible for pet insurance products.  State Farm is a separate entity and is not affiliated with Trupanion or American Pet Insurance.
State Farm VP Management Corp. is a separate entity from those State Farm entities which provide banking and insurance products. Investing involves risk, including potential for loss.
Neither State Farm nor its agents provide tax or legal advice. Please consult a tax or legal advisor for advice regarding your personal circumstances.