HOME & PROPERTY
Protect the Place You Love to Call Home
Talk to a State Farm® Agent Today About Homeowners Insurance
Homeowners insurance...more people buy theirs from State Farm than any other insurer. Our claims network is one of the largest in the world, and is accessible 24/7, online or by phone. State Farm helps you save on homeowners insurance coverage by offering a host of ways to save you money for everything from Home/Auto Discounts to everyday safety items like alarm systems, deadbolt locks, and fire extinguishers. Plus, State Farm policyholders can even take advantage of special offers on home automation and monitoring systems — a smart way to save money and help monitor your home.
State Farm Homeowners Insurance coverage helps protect your home and property if disaster strikes.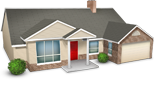 Basics of Homeowners Insurance
Homeowners Insurance Covers:
Examples not limited to:
Fire or Lightning
Windstorm or Hail
Theft
Weight of ice, snow or sleet
Vandalism/malicious mischief
Aircraft and vehicles
Explosion
Sudden or accidental tearing or bulging of heating or cooling systems
Riot or civil commotion
Falling objects
Freezing of plumbing systems
Sudden and accidental water discharge from plumbing or appliances
Sudden and accidental artificially generated electrical current
All coverages are subject to the Losses Not Insured provisions of the policy.
Homeowners Insurance Doesn't Cover:
Bodily injury or property damage that is expected or intended by the insured
Business pursuits
Professional services provided or not provided
Ownership, operation, use, or maintenance of aircraft, motor vehicles, and certain watercraft
Disclosures
Discount, policies, and programs and their availability vary by state and eligibility requirements.
This information contains only a general description of coverages and is not a contract. Details of coverage or limits vary in some states. All coverages are subject to the terms, provisions, exclusions, and conditions in the policy itself and in any endorsements.
Discount offers on home security products are not available in all states and may require an eligible State Farm Auto or Fire policy. Discount offers not available in Alaska, New York, North Dakota, Pennsylvania, or South Dakota. State Farm customers in Indiana, and North Carolina must have a State Farm Auto policy to be eligible for the discount offer. Discount offers only available in the US. Products and services are offered by third parties and State Farm does not warrant the merchantability, fitness, or quality of the products and services of the third parties.