What kind of leash, collar or harness is right for my dog?
Learn about the common types of dog leashes, collars and harnesses to help your family find the right fit for your best friend.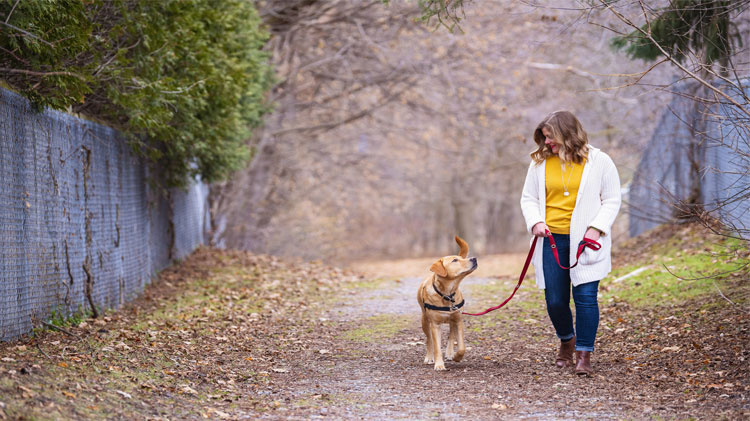 If you have a new dog in your life, you may be wondering what kind of leash, collar or harness is right for your furry friend. While it may seem like something easy to purchase, there seems to be a wide variety of options. Also, depending on your dog's breed or age, you may want a pet care option recommended by your veterinarian.
Whether you're lounging at home, playing in the yard or on a family walk, it may be best to be prepped and ready with a safe pet care option from day one. Here are some suggestions on leashes, collars and harnesses for your dog.
Dog collars
Dog collars are incredibly important for your dog, even if you're just around the house. Naturally, the dog collar is an ideal spot for your pet's identification and contact information. Also, this may be one of the first gifts you give your new dog, so you may want to make sure this is purchased before bringing your pet home.
Get a pet insurance quote
Take care of bow-wows and meows.
Flat collar
A flat collar is the most common dog collar with a simple layout and place for your pet's identification. This can be found in most stores and usually comes in a variety of colors. Also, whether your dog is a puppy, adult or senior, a flat collar is a popular option for your furry friend. Depending on your dog's breed, they may slip out of the collar due to the material type. Consider talking with your veterinarian about which pet care option may be best.
Martingale collar
The martingale collar may be used for any dog breed but may be most commonly seen on a Whippet or Greyhound dog. Also, this type of collar is considered a safe option with a no-slip function. Just like the flat collar, you can purchase this collar in a wide variety of colors and sizes. Always consult with your veterinarian if they feel a martingale collar may be a great alternative for your best friend.
Personalized no dog tag collar
Some pet owners may want a no tag collar. This may prevent jingling or your pet from losing their identification. Also, this collar may come in a variety of colors, engravings or even have the identification on the buckle or collar itself. Further, this collar is often made of leather or nylon material and can withstand weather and daily use.
Dog leashes
Whether you choose to take your best friend on an afternoon walk or an adventurous hike, there are quite a few options when it comes to your dog's leash. Also, your dog's leash can help with everything from puppy training to tackling difficult terrain. Pet safety while on a walk may be front of mind for pet owners and a leash can help keep your pup happy and healthy.
Traditional flat lead
The common flat lead leash is usually made of nylon or leather and is six feet of material. Also, this can be used on a puppy, adult or senior dog. Naturally, the six-foot lead can help give your best friend the chance to explore, but under your supervision.
Stretchable rubber leashes
These leashes give your pup the chance to explore and adventure with a bit more bounce, but can also help keep your furry friend safe. Consider your pet's breed, age or energy level before you purchase your dog's leash. You may find you use several different types, depending on your environment.
Gentle leader headcollar
A gentle leader or head collar is a safe alternative to help your new furry friend learn how to walk on a leash. Also, it can help with training and curbing any unwanted behavior cues. For example, everything from pulling and diving to trying to eat something they shouldn't. Consider talking with your veterinarian about your options and if they think this is a good fit for your new pet.
Hands-free leash
If you're looking to take a run, the hands-free leash may be a great option for you and your dog. Often tied at the waist, this gives you free rein of your hands while you're on the go. Also, this gives you a safe option with double ties and a carabineer to make sure your pet is safe while you hit the trails.
Retractable leash
Although the retractable leash may be convenient for some pet owners, you may want to be mindful of the hazard that can be associated with this type of leash. For example, if you drop the leash, your dog becomes scared or frightened or you run into something unexpected, it may be harder to control your pet on this type of leash. Further, these leashes have been known to break, tear or even cause an accident.
Dog harnesses
A dog harness is another way to help keep your pet safe and secure when you're outside. Also, a dog harness may be helpful if you have a dog that may like to pull or if they have a lot of energy.
Back-clip harness
This harness may be ideal for a smaller dog or if you have a short-faced dog like a Pug, French Bulldog or Boston Terrier. Also, this may help with pulling and keep your furry friend moving forward with some help.
Front-clip harness
A front-clip harness or no pull leash is helpful for dogs of all sizes. This may be a great option if your dog pulls and there are no other training opportunities. Also, some harnesses that have a front-clip harness may have a back-clip option for additional safety measures. Remember, every dog is different, but a Labrador Retriever or Golden Retriever may benefit from this harness option.
Sport dog harness
Whether your pup is into fly ball, agility or hiking the trails, a sport dog harness may come in handy for your best friend. Often with reflective stitching, durability and flexibility, a sport harness may give your dog a bit more space to move. Also, this may come in a wide variety of colors and fabrics to keep your pet ready for adventure in various types of weather.
Is a collar or harness better for a puppy?
Every puppy is different. Also, depending on your pet's breed, they may need more flexibility or safety measures when they're learning how to walk outdoors. Consider talking with your veterinarian about what works best for your new pet and family. Further, playtime in your backyard versus a neighborhood walk or beach trip, may require different pet care options.
Leash/collar/harness/dog guide
Whether your dog is ready for adventure or on a family walk, there are many options to keep your pet safe, happy and healthy. While you may want to try different styles for your furry friend, you may find several that fit your pet's needs, especially as they grow and age. The best pet care option is the one that allows your dog a safe space to roam, explore and play with the family. Further, keeping your pet safe is what every dog owner wants. With the help of a pet insurance policy, you can help budget and plan for the unexpected.
Discover how a pet insurance policy can be there for your pet during their lifetime.
Terms and conditions do apply. We love informed decisions. See the Trupanion policy for full coverage details.