Tips to plan for an affordable vacation
Whether you're keeping a detailed budget or just estimating, the major expenses to consider for most vacations are listed here along with tips to save money on these choices.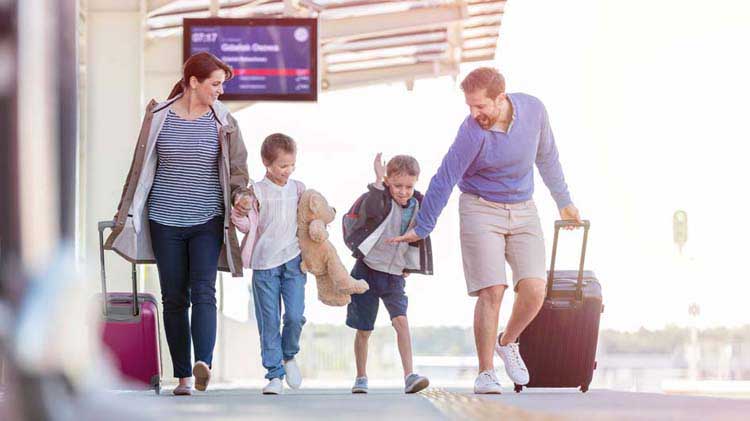 Here are general tips that can apply to the overall vacation:
Planning your vacation
Planning well ahead of time ensures you can reserve popular travel choices before they're sold out. It also gives more time to research your vacation, to save more toward it and to recognize and secure good values when they appear.
If you can travel on the off-season, expenses can be significantly less and your destination may not be as crowded.
Vacation research tips
Looking at city websites for your destination can give ideas of what to do there.
Finding online customer reviews can suggest whether local attractions are worthwhile.
If you are looking at sites that display in a foreign language, you can copy and paste foreign language text from reviews and websites into a language translator to get an idea of what they're communicating.
Transportation
This is generally one of the largest expenses and will affect your timeline the most. For most vacations, you'll need to factor in transportation costs to and from the transport hub and while at your destination.
Flying. If you want to travel far, get somewhere fast or you have airline miles built up on your credit card, this can make the most sense. There are a lot of aggregators built to find cheap flights and research indicates there can be a wide swing from one to another, so it can pay to get multiple bids on flights. Sometimes you might save money by taking a different airline for the return trip than you took for the flight there. Remember to look at the timing and not just the cost. For instance, most wouldn't want to take 5 more hours and 2 extra stops to get to their destination while saving only $20.
Driving your vehicle. This can be the way to go for your budget and can also be more convenient. You don't have to pay to bring any luggage you can fit, no need to stop over at stations or airports and you'll already have transportation for while you're at your destination. A little car maintenance before the trip can prevent breakdowns. You may want to include vehicle wear and tear in your budget and set some money aside in case you have any mechanical needs. Carpooling offers huge savings over other modes, making this a popular choice for group and family vacations on a budget.
Taking a train. Train lovers will find it worthwhile to pay for a sleeping car if they can reserve it early enough. Another option is to sleep in the seat to save money compared to other travel methods. Long distance ticket costs are comparable to airfare and you could experience some picturesque sites. If you don't want to take a train both ways, you could catch a flight home.
Taking a cruise ship. Taking a cruise can be a wonderful experience and a great value. With meals, lodging, travel to multiple stops and some entertainment already provided, this can be a lot of fun and easy on the budget.
Lodging
This is usually another major expense item for your vacation. Consider that some of these choices can include a kitchen and refrigerator, which can save you money or better meet your dietary needs compared to restaurants alone. Here are some lodging options, ideas and budget considerations:
Hotel. Just like cheap flights, there are a lot of hotel aggregators to check with and some that search both jets and hotels. It can also pay to get multiple bids in addition to checking directly with hotels of your choice.
Rent a house. There are quite a few sites for renting a vacation home. These can cost more or less than the hotel option, so it can be worthwhile looking into each. This can be a good route to go for group savings and family vacations on a budget.
Camping. If you enjoy the great outdoors, camping can be a great option. Bringing your camper or tent along can save you money compared to other lodging choices.
Staying with others. The cheapest vacation lodging can be staying with friends or family. You'll have to decide if it would be a good experience for everyone involved. Another low cost option for sociable people could be a hostel.
Other travel expenses to consider
Insurance needs for vacation. Check your policies and talk to an agent if your vacation is affected by the following:

Rental car coverage. If you're renting a car you'll likely be asked if you want rental car insurance. Ultimately, it's up to you to determine if you need the extra coverage.
Coverage on your car. If you have a United States auto policy, it includes out of state car insurance. If you drive outside the US, check with an agent on what you'll need.
Protect your residence. Some insurance companies require your home to be checked in on every 48 to 72 hours. Find out if yours does, and if so, you could either have someone check on it for you or look into purchasing an add-on to your policy. Here are steps you can take to protect your home while on vacation.
Life insurance. Depending on the activities you plan to do on your vacation or the volatility of the locations you're visiting, you may want to obtain life insurance or if you have it, be aware of whether it's affected.
Protect your valuables. With a Personal Articles policy, items such as jewelry and cameras are covered while at home or on vacation.



Various expenses while on vacation. Other expenses will vary widely depending on your personal tastes. Spend time imagining yourself on your vacation and consider each type of expense you predict you'll have so you can be prepared. Other common expenses to consider include food, parking, tolls, souvenirs, gifts, entertainment, attractions, hotel services, special gear, pet care and child care. Here are some things to keep in mind if you are traveling with pets
Now you have some fairly detailed information to help you plan your vacation and also to make it affordable. Surprises can still come up, so leave room in your budget for them. With this preparation, you can feel confident in making your purchases, enjoying your vacation and making great memories to last a lifetime.