This RV travel checklist helps you pack for your trip
Get stocked up and prepared when an old-fashioned RV road trip is in your future.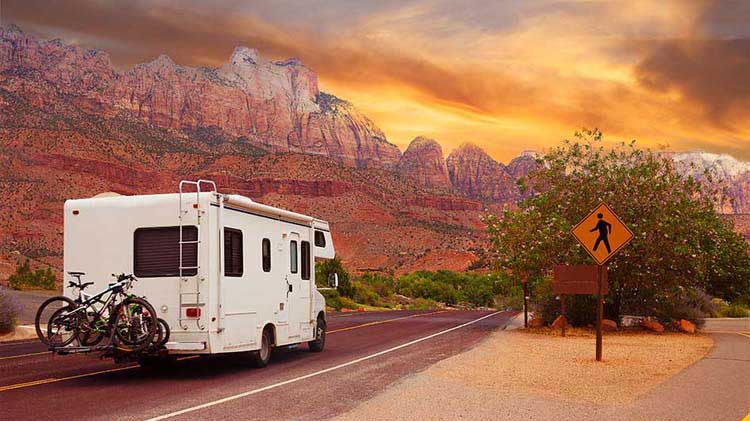 Is the all-American road trip on your summer travel plans? If it is and you are planning on taking that adventure on the open road in an RV, use this maintenance and supply to-do list to plan a smooth ride.
Get motorhome or camper insured
The first step is to make sure your RV or motorhome is insured. Insuring your motorhome against damage and loss caused by common risks, such as fire, storms, theft and collision will help protect you against the unexpected on your travels. Talk to an insurance agent for more information.
Plan ahead for your RV travels
Flexibility is a perk of RV travel, but a little planning will help you avoid aimless driving, congested metropolitan areas and wasted time and save you money.
Make an itinerary. A rough itinerary with the best places on route to eat, explore and stay will help alleviate some of the guessing.
Locate your camp sites. Find the lot size and water, power and sewer hookups you need at GoCampingAmerica.com and GoRVing.com.
Decide what amenities you want. From rustic or Wi-Fi enabled, pools to exercise facilities, camping options run the gamut.
Plan your route.
Time your trip. Plan for the days of the week, weather conditions and special events you might want to see.
Make a budget. And stick to it.
Stock the supplies
Outfit your motorhome, RV, and campers with the comforts of home. Some necessities include:
Dishes, cookware and kitchen tools,
Nonperishable food items,
Cleaning supplies,
First-aid kit,
Tool kit,
Batteries,
Flashlights,
RV-friendly toilet paper, and
Soap, shampoo, linens and other bathroom supplies.
Go RVing Coalition maintains an RV essentials list to ensure your RV is completely stocked with the must-haves for an enjoyable trip.
Maintain, maintain, maintain
Regular maintenance can keep your RV operating safely and reduce the risk of a breakdown.
Before every trip:
Other tasks, as directed
Follow the manufacturer's suggested timeline for these tasks:
Cleaning air conditioner filters,
Draining air from air brake tanks,
Lubing slide wipers and rails,
Changing engine and generator oil,
Checking air, fuel, coolant and hydraulic filters,
Adjusting brakes, and
Checking window, door, and roof seals.