Sump pump basics
Learn how sump pumps work and whether you should look into installing one.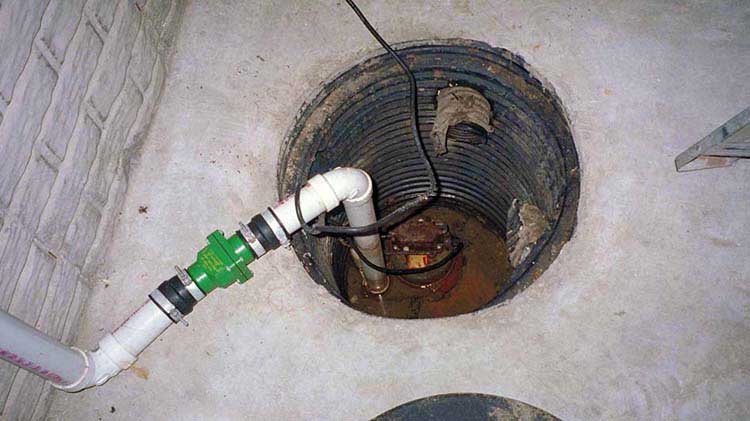 Wet basement struggles
Many homeowners tackle the problem of a wet basement and water damage by using a sump pump — a small pump stationed in a home's basement that sends water out to a more acceptable location, like a sloped backyard or a municipal storm drain. Sump pumps are typically housed in a basement's sump pit, or sump, a reservoir for excess groundwater and rainwater. The principles at work are pretty simple: rather than keeping water out completely, a sump pump system controls how water gathers beneath your home, then pumps it out after it's collected.
If you've explored other ways of keeping your basement dry — examining the grading around your home and repairing any noticeable leaks or broken pipes and are still having trouble, it might be time to consider a sump pump. Remember, sump pumps don't prevent water from accumulating, but they can go a long way in controlling water in your basement. Either way, your possessions stay dry, and that's the point.
Many homes have sump pits built right into the basement floor. If this is the case, all you'll need is the pump itself. If your home is not equipped with a sump pit, a drain expert or contractor should be able to tell you if it's possible to retrofit your basement.
Types of sump pumps
There are three types of pumps used in basements or crawl spaces:
Pedestal sump pump: Also referred to as a "column type" or "upright" sump pump, the pedestal sump pump has an open motor that is supported on top of a column attached to the pump casing. When installed, the motor sits outside the sump and above the basement floor. The motor is not designed to be submerged in water.
Submersible sump pump: This pump uses a watertight motor designed to be immersed in water, and will typically kick into action when it senses that it's become submerged. The motor is coupled directly to the pump casing and is designed to be completely hidden within the sump.
Water-powered sump pump: Water-powered sump pumps are generally much less powerful than pedestal or submersible pumps, but may have some advantage: They run on city water pressure instead of electrical power. However, because they require significant water pressure to function efficiently, they often can't be used if your city water pressure is low or limited, or if your house gets its water from a private well.
A working system
So what does a functioning sump pump system look like? There are usually three key pieces:
A primary pump
An emergency backup pump (battery- or water-powered)
An emergency backup pump alarm
Because homes sometimes lose power during thunderstorms — just when an operational sump pump is critical — many pumping systems employ a backup pump. Emergency sump pump battery backup pumps work when the power goes out, when the primary pump does not remove the water fast enough, or if the primary pump fails.
In this setup, primary pumps are powered with electricity, and backup pumps are battery- or water-powered. Using two pumps instead of one makes it unlikely that both pumps will malfunction at the same time. And with the alarm system, you'll be able to tell when the primary pump has failed and the backup pump has to be used.
Is a sump pump right for you?
Installing a new sump pump system — especially if your basement doesn't already have a built-in sump pit — is an extensive, complex job. Make sure you consult with a plumbing expert.
And to find out more about particular pumps for your basement, or to check if a certain pump is certified, consult the Sump & Sewage Pump Manufacturers Association.