Hail damage: How to spot it on your car and home and what to do
Hail can wreak havoc on your car. Here's how to spot hail damage on a car, fix it and prevent costly hail damage.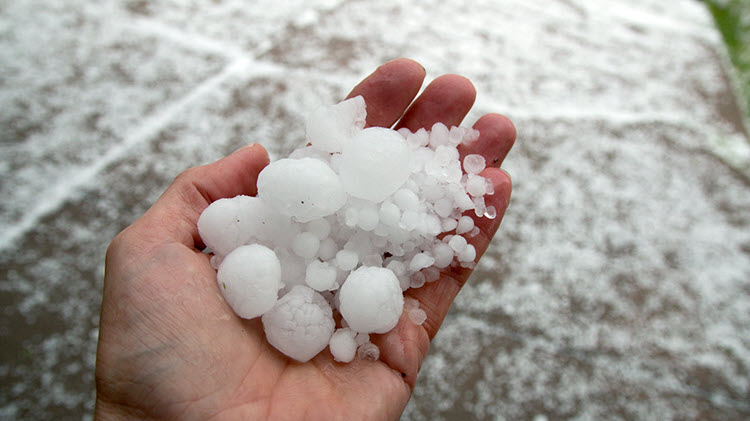 No one wants a car that looks like a golf ball, but that's exactly what one bad hail storm can do. Learn how to spot the telltale signs of hail damage, find out what it takes to fix it and know what to do to avoid this severe weather hazard.
What is hail damage?
During a severe storm, chunks of ice smaller than peas or, less often, larger than baseballs can fall from the sky at speeds of many miles per hour. If hard enough when they reach the ground, hailstones can cause damage to the tune of $8 to $14 billion a year.
Hail damage spikes from March through June, and just two states — Texas and Colorado — account for 37% of all hail-related insurance claims. Even so, hail storms happen all over the country throughout the year.
Hail often causes damage to a home's roofing and siding, which can result in leaks. Repairs may be needed as a result of the hail damage. But it can also wreak havoc on vehicles, with nearly 750,000 claims made each year.
More important than protecting property, of course, is making sure that you and your family stay safe during a hailstorm.
How to spot hail damage on a car
Any vehicle left outdoors during a storm is susceptible to damage. It's often obvious, but at times, spotting damage may require close examination. When the severe weather clears and it is safe to go outdoors, inspect the car for these most-common signs of hail damage:
Large or small dents in the hood, doors, side panels or trunk; these dings typically aren't uniform, may not damage the paint and may not cover the entire vehicle
Chipped, cracked or broken windshield, windows or mirrors
Water damage inside the vehicle due to broken glass components
Missing or loose side mirrors
Doors or side mirrors that are stuck or jammed
If you're unsure whether damage on your vehicle is related to hail, most body shops offer free inspections and hail damage estimates.
Hail damage repair
Paintless dent repair (PDR) is an industry-recognized repair process that involves the removal of hail dents or other types of damage from metal exterior surface panels without disturbing the vehicle's finish. In most cases, this procedure involves the use of specialized tools to apply pressure to the backside of the panel to remove surface imperfections. Other techniques may be used to repair damage from the topside of the panel, depending on the size and location of the damage.
Hail damage repair costs can range from a few hundred to thousands of dollars. Insurance typically covers vehicle hail damage repair, so check your policy and deductible to determine if it's in your best interest to file a claim.
How to prevent hail damage
An ounce of prevention is worth a pound of cure. With hail, avoiding damage can avoid expensive out-of-pocket repairs or insurance deductibles.
Parking your car in a garage can protect it from the elements. If you don't have a garage, consider installing a carport, which can cost as little as $1,000. There are also car covers specifically made to protect against hail damage, including inflatable designs, that cost a few hundred dollars. If all else fails, cover your car with blankets in advance of a storm.