How do annuities work?
An annuity could be a valuable addition to your retirement plan. Here's how they work and what they are.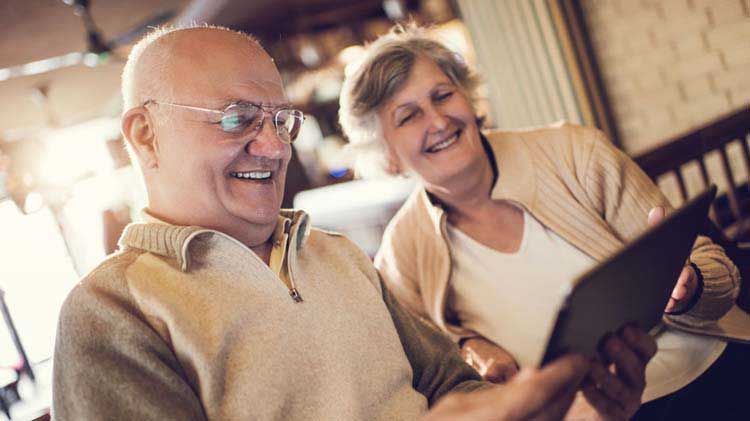 What is an annuity?
At its core, an annuity is a savings option for retirement and an investment tool used to help plan and execute your retirement goals. This policy type is sometimes referred to as a retirement annuity, a life annuity or annuity insurance and is an insurance contract you purchase that guarantees you'll receive a specified amount of money every month for the rest of your life, no matter how long you live. It's a paycheck for life!
Why buy an annuity
An annuity is a good strategy for retirement planning since it provides flexibility. Annuities can be purchased in one lump sum or with a series of payments over time. They are an avenue to help policyholders save money on a tax-deferred basis and receive a steady income in retirement.
How an annuity works
An annuity is a contract between the owner of the annuity and the company issuing it. You buy the annuity and the company pays you interest on the money. At a certain age you start taking the money out and you could receive payments for as long as you live.
Annuities and life insurance are often mentioned in the same conversation because most annuity contracts are written by life insurance companies. However, life insurance is intended to meet the needs of the beneficiaries after the death of the policyholder. With annuities, the intention is to provide additional income to policyholders during their retirement years.
Retirement annuity and life annuity are common terms used when discussing annuities.
Retirement annuities: These are commonly used as part of an overall retirement plan. Knowing how much money you'll need in retirement can be a tricky question since we don't know how long we're going to live or what kind of health conditions we may or may not experience. Therefore, an annuity can provide a way to supplement your Social Security and other retirement savings.
Life annuities: Annuities are also often referred to as life annuities because they provide you with a guaranteed income for life. A major concern people have about retirement is running out of money. An annuity can ensure you will never outlive your money in retirement.
There are distinct phases of annuity contracts.
Accumulation phase: The period of time after you purchase your annuity and before you start receiving payments. During this phase, your investment will grow at a guaranteed minimum interest rate. This growth is tax-deferred for annuities purchased outside of a qualified retirement plan, like an IRA or 401k.
Annuitization phase: When you start receiving payments, typically at retirement.
Categories of annuities
There are various categories of annuities including immediate, deferred, fixed and variable annuities. The immediate vs. deferred category has to do with when your income payout begins. The fixed vs. variable category has to do with how your contributions are invested.
Immediate annuity
Immediate annuities generate income immediately after purchase. Your money provides guaranteed payments to you that begin soon after you make your initial payment. Depending on the tax-qualified or non-tax-qualified status of your annuity, a portion or the entire payment can be included in your taxable income. The owner can elect to receive guaranteed payments for life, or elect payments to be made over a specified length of time (period certain).
Deferred annuity
Deferred annuities allow your investment to grow tax-deferred until you decide to start receiving income payments at some point in the future. And you can choose when you want to start receiving income payments. Deferred annuities may also make sense for people who are looking for an additional way to save money for retirement, even when it is a few years down the road.
Fixed annuity
With fixed annuities, as with variable annuities, there is a risk component to consider. An insurance company accepts the investment risk and places money in high quality fixed-rate investments such as bonds. This allows the company to earn a stable fixed interest rate for a certain period of time.
Variable annuity
With variable annuities, the risk is taken by the policyholder, rather than by the insurance company since the money is placed in market-based investments. This may include stocks, bonds, mutual funds or money markets. You may have the option to move the money around among the different investments. In addition, the rate of return can vary based on the performance of the investments.
Indexed annuity
Indexed annuities have both fixed and variable annuity features. They offer a base guaranteed interest rate along with a rate of interest based on a stock market index, like the S&P® 500 Index. This provides the opportunity for investment growth when the market performs well. An indexed annuity can be a complex product. Make sure to discuss all the features, fees, surrender charges and any tax penalties with your insurance agent so that you understand how they work together before you purchase.
Annuity payout options
When you purchase annuities, there are a number of choices for the payout period.
Cash refund option
With this option, you'll receive payments for the rest of your life. And if you pass away before getting your initial principal back, the difference will go to your beneficiary as a lump sum payment. This guarantees the return of principal. On the flip side, if you're still living once your initial investment has been paid out to you, you'll still continue to receive the same monthly payment for however long you live.
Life income annuities with period certain
With this option, if you pass away before the period certain, your beneficiary is guaranteed to receive payments for the number of years you chose. If you live past that date, you'll still continue to receive payments for the rest of your life. An example might be a 10-year option where you'll get payments for life no matter what. In this scenario, if you pass away before 10 years are up, your beneficiary will receive payments for the remaining time.
The best way to know if an annuity is right for you is to have a conversation with a trusted adviser to help you decide if an annuity makes sense as part of your retirement plan. If you'd like to talk about your retirement goals and learn more about annuities, your local State Farm® agent may be able to help.