Space heater and wood stove safety
Become familiarized with the ways to safely use these supplemental heat sources.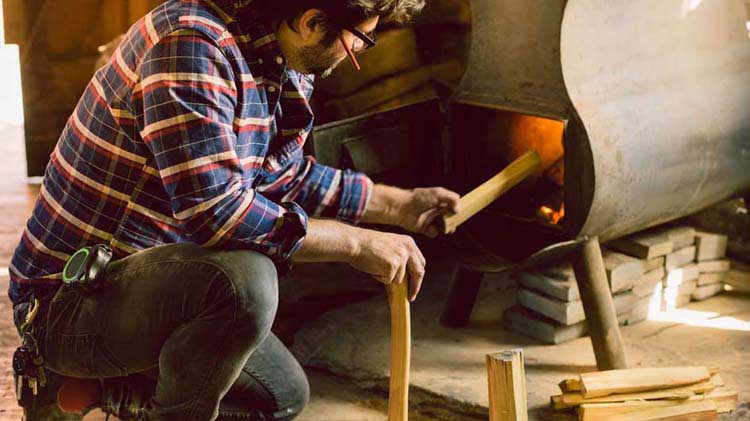 Even when they're not your home's primary source of heat, space heaters and wood stoves are great for warming up chilly rooms. But these supplemental heat sources should be operated with a measure of caution. According to the National Fire Protection Association (NFPA), space heaters, whether portable or stationary, account for 44% of home heating fires. In addition, 81% of home heating fire deaths involve space heaters. They also contribute to 80% of fire related injuries and 54% of home fire related property damage. Help reduce the risk of fire with these tips:
Electric space heaters
Radiant space heaters warm whatever is directly in front of them, while convection heaters can help make an entire room feel more comfortable. To use them safely, consider the following tips:
Purchase units that are listed with a nationally recognized testing laboratory such as Underwriters Laboratories (UL).
Heaters should be kept at least three feet from combustible materials such as bedding, curtains and furniture. People and pets should also keep their distance from space heaters.
Place the unit on a level surface and plug it directly into a wall outlet.
Never use a space heater to dry clothing.
Select a unit that automatically switches off if the unit tips over.
Be especially cautious when children or pets are in the room. Do not leave an electric heater on overnight or when you're sleeping.
Wood stoves
Wood stoves are a more efficient heat source than traditional fireplaces, and many units can keep more than one room warm. To keep wood stoves operating safely, consider the following tips:
Before buying a stove, check with your local fire department to get local ordinances on solid fuel burning appliances.
Be sure the unit has been tested and is listed with a nationally recognized testing laboratory such as Underwriters Laboratories (UL).
Follow the manufacturer's directions and pay close attention to clearance requirements. If there are no manufacturer's instructions or a label on the unit, the NFPA suggests clearances should be 36"away from any combustible item, such as curtains or flooring.
Install a floor protector that meets the heating appliance manufacturer's requirements, and extends at least 18"on all sides of the heater, unless the manufacturer states otherwise.
Have the chimney and stovepipe cleaned and inspected annually.
Burn only seasoned hardwood or wood pellets in the stove, according to the manufacturer's directions.
Wait until ashes have cooled before removing them. Transfer ashes in a covered metal container to an outside location 10 feet or more away from the home, and douse them with water.
Kerosene space heaters
These units are relatively inexpensive to operate and can warm a large area within your home. Some communities restrict the use of kerosene heaters, so always check with the local authorities about potential restrictions before purchasing or operating a unit. To operate safely, consider the following tips:
Purchase units that have been tested and approved for use by a laboratory such as Underwriters Laboratories (UL).
Keep children and pets away from the heater to avoid contact burns.
Use only the approved fuel — clear 1-K grade kerosene, never gasoline.
Kerosene heaters should only be used in a well-ventilated area away from flames or other heat sources.
Do not refill a heater until the unit is cool. Refill units outdoors.
Always make sure all smoke detectors are in working order with fresh batteries.