ATV safety
Operating rules for your family to know before hitting the trails.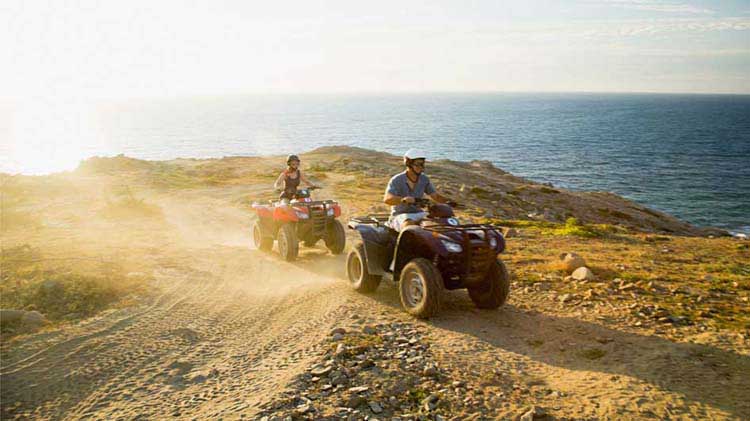 All-terrain vehicles (ATVs) are a great way to have fun and enjoy the outdoors. But it's important to remember operating one requires proper instruction and preparation.
Whether you're doing daily chores around the farm or weekend trail rides, make sure you take the proper steps to be safe when using an ATV.
Before you head out on your ATV
Take a safety training course. ATVs can travel at more than 60 miles per hour and tip over easily. Knowing how to stay safe while riding one is essential. Typical course topics include starting and stopping, quick turns, hill riding, emergency stopping and swerving, riding over obstacles, protective gear, local regulations, places to ride and environmental concerns. The All-Terrain Vehicle Safety Institute®offers safety training courses around the country.
Wear protective gear that is season and/or weather appropriate. This includes a Department of Transportation-approved helmet, over-the-ankle boots, goggles, gloves, long pants and a long-sleeved shirt or jacket that can help protect against possible cuts and other injuries. Make sure you will be warm or cool enough for the duration of the ride even if it gets wet.
Don't carry passengers. Most ATVs are designed for one person at a time. Carrying a passenger can make them very difficult to control and be very dangerous.
Maintain proper maintenance. A pre-ride checklist can help make sure your ATV is functioning properly and safe to drive. The fuel and oil, tires, brakes, steering, chain, radiator and battery are a few things you'll want to consider checking.
Let others know where you will be riding and how long your plan on being gone, similar to a boater's float plan.
Check your insurance and make sure it's updated. Contact your local State Farm® agent if you need information about insuring your ATV.
Pack the essentials for your ride
If you're going to be riding long distance or simply just all day, pack the essentials. If your ATV doesn't have a lot of storage, carry a backpack. Some ideas on what to take are listed below.
Cell phone or walkie-talkie – Carry a cell phone in case of an emergency, especially if riding alone. Make sure the battery is fully charged. Helpful hint: put it in a plastic sandwich/waterproof bag to protect it from water damage.
Winch – If you ride alone, a winch is very important if you get stuck. If you don't have a winch, another machine and a tow rope should work.
First aid kit – Injuries from any sport are common, some first aid supplies can go a long way.
Tire repair kit and an inflation device – Don't let a flat tire strand you, repair it on the trail and ride out. Bring some form of inflation device as storage permits whether it's an electric pump, manual pump or a CO2 inflator; fixing a hole in a tire does no good if you can't put air back in the tire.
Water and snacks – Riding off road uses a lot of energy and in warm climates dehydration can be and a big concern.
Map – Depending on where you ride, a simple low-tech map can be a life saver.
Lighter and/or matches – Depending on where you ride, having the ability to start a fire could be a life saver. Hint: put these in the waterproof bag with the cell phone.
Basic tool kit – A kit could contain: a screw driver with interchangeable bits, electrical tape, pliers and a wrench.
Small jump pack in case of a dead battery – Most ATVs today are electric start with no good way to push start or kick/pull start. There are several small battery packs that can be used with cables to jump start a machine and also provide added battery life for your cell phone.
On the trail with your ATV
Know the area and/or trails where you'll be riding.
Ride at proper speed. ATVs can be unstable and difficult to maneuver when driven too fast for conditions. To avoid flipping, maintain proper speed for the terrain, especially on uneven ground. Also be cautious when approaching hills, turns and obstacles.
No tricks or stunts. They might look fun and easy on TV, but they are extremely dangerous and best left to the experts. Most injuries occur when ATVs are operated improperly.
Avoid drugs and alcohol. They can greatly impair judgment and reaction time and may lead to a serious accident or injury.
Drive in appropriate settings. ATVs are not designed to be driven on paved roads and do not stand up well in a crash with passenger vehicles. In recent years, there's been an increase in the number of ATV fatalities and injuries on public roads. Stay off-road and operate only on safe terrain.
Children and ATVs
Never let children drive adult ATVs. Children under 16 are twice as likely to be injured riding adult ATVs than those who operate youth ATVs. If you allow your child to ride an ATV, make sure you follow the manufacturer's minimum age recommendation warning label.
Determine your child's readiness. Operating an ATV requires the rider to recognize and react to all sorts of potential hazards. Factors to consider include the physical, social, emotional and motor development of your child, as well as the ability to make sound decisions. The ATV Safety Institute has a readiness checklist to help you make an informed decision about your child's readiness.
Closely monitor. Children on ATVs should be supervised at all times to make sure they are operating them safely. If not, you may want to reconsider their ability and judgment to safely operate an ATV.
Educate yourself and your child. Make sure you both have proper training on how to safely operate an ATV. An ATV injury prevention checklist (PDF) can help you get started.
No matter what your age, riding level or years of experience operating an ATV, it is always smart to be prepared and remember basic safety rules. There's no reason why off-roading can't be an enjoyable experience for everyone. If riding season is not year round in your area, learn how to prep your ATV for winter storage.