Stay safe on water skis and jet skis
They're fun recreational activities on the water, but you still have to obey the rules.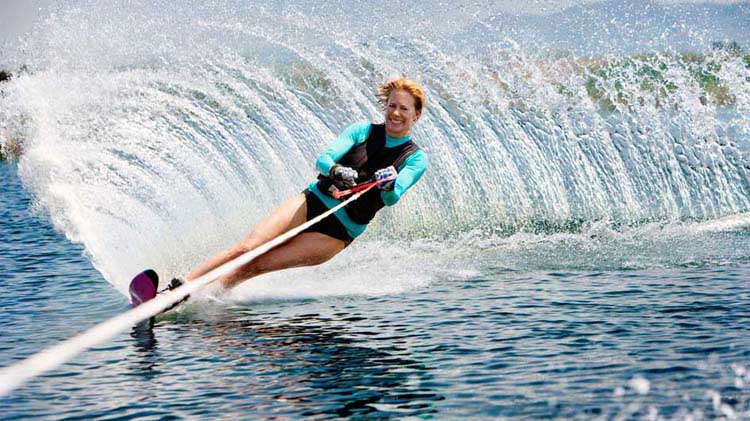 Few things are as exhilarating as summertime water sports. But whether you're operating a personal watercraft (PWC) or being towed behind one, make safety your number one priority with these suggestions.
All-around safety rules for water sports
Wear a Coast Guard-approved life jacket.
Always let someone know where you're going before you head out.
Boat only during fair weather.
Don't participate in high-speed sports in low-light or after dark.
Water skiing safety
Inspect your equipment.
If you aren't familiar with the body of water, ask someone who is about areas to avoid.
Avoid skiing in shallow water or on small or busy lakes.
Review hand signals. Typically, an extended right or left hand indicates the direction to turn, a thumbs up or down directs drivers to adjust speed and a raised palm means stop.
Make sure a spotter is on board with the driver.
Release the towrope as soon as you fall.
When you're down, hold up a ski to make yourself visible.
Don't approach or board the boat until the engine is off.
Jet skiing safety
Keep the ignition safety switch lanyard on your wrist or hooked to your life jacket. This cuts power to the engine if you fall off.
Be sure you meet your state's minimum operating age and education requirements.
Follow basic boating rules and practice proper boating etiquette.
Before leaving, check the PWC to be sure it's in working order and that you have the necessary equipment on board.
Avoid dangerous maneuvers like using another watercraft's wake as a ramp.
When pulling a person, your PWC should be able to seat you, a spotter and the person being towed.
Keep your feet inside the PWC, and maintain a firm grip on the handlebars or the strap on a 3-seat jet ski.
Ride defensively. Scan for boats and objects in your path, and drive at responsible speeds. Remember, most PWCs don't have a braking system, and you'll lose steering capability when the power is off.
Learn more about personal watercraft safety from the Personal Watercraft Industry Association. And contact your State Farm® Agent to make sure your watercraft is properly insured.