Emergency kit supplies to include
Having emergency kit supplies prepared ahead of time may give you just the resources you and your family need to stay safe.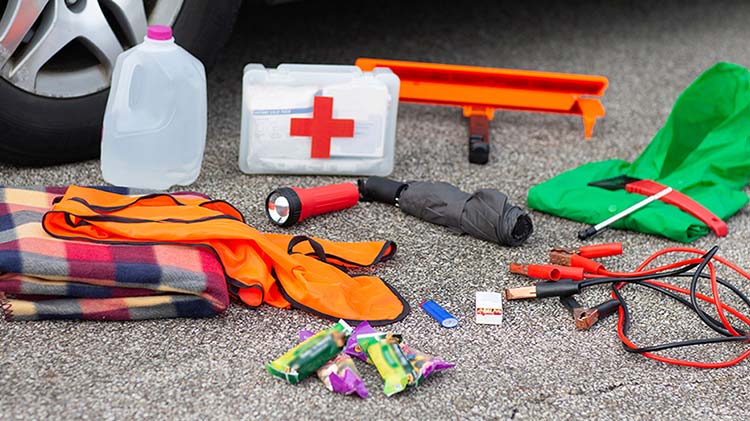 A disaster or emergency could leave you without power and or help for several days, so it is best to be prepared with an emergency kit.
And what you need in your emergency kit will depend on if it's for your home, car, boat or RV, what kind of disaster you could be facing as well as whether your family has a pet.
Home emergency kit
The basics of any emergency kit should include water and food.
The American Red Cross recommends one gallon of water per person, per day. When deciding how many days to consider, the Red Cross suggests planning the amount of food and water you need is a three-day supply for evacuations and a two-week supply for sheltering at home.
Non-perishable, easy-to-prepare foods that your family is willing to eat should go into your kit. When preparing a kit, Ready.gov suggests considering:
Canned meats, fruits and vegetables
Pasteurized milk and fruit juices
Protein or fruit bars
Dry cereal or granola
Peanut butter
Dried fruit
Be sure to consider any special dietary needs for infants, children and adults when planning your food and check your kit every six months for expired foods.
Additional items for a basic kit include:
A first-aid kit with a variety of bandages for minor cuts. Your kit should include items such as gauze dressing pads, bandage rolls, first-aid tape, antibiotic ointment, tweezers and scissors.
Medications including a seven-day supply of all prescription medication everyone in the household may need as well as pain relievers, stomach remedies and allergy medicines. It's also important to check your kit every six months for expired medicines.
Equipment such as a multi-tool could come in handy during an emergency and the Red Cross suggests having a battery- or crank-powered radio, flashlight, extra batteries, can opener, sanitation and personal hygiene items, cellphone chargers, extra cash, blankets or sleeping bags.
Documents can also be vital to have in an emergency including copies of personal documents such as medication lists and pertinent medical information, proof of address, passports or other forms of ID and copies of birth certificates and insurance policies.
Having a good, basic home emergency kit may help make dealing with severe storms and emergencies a little easier.
Car emergency kit
Whether you have simply run into trouble on the road, live where you could encounter weather hazards such as snow and ice or you are evacuating from a disaster area, you should include an emergency kit for your car.
Some basic items to consider for your vehicle should include water and food, a first-aid kit and extra supplies for medical conditions, blankets and a phone charger.
Additional items you may want to consider keeping in your vehicle are:
Local and regional road maps
Garbage bags
Toilet paper
Paper towels
Gas can
Jumper cables
Towline
Weather can also create safety challenges that require more emergency car items or special driving skills for snow and ice. Considerations for summer driving also need to be made and may require different emergency kit items.
And always make sure you keep your vehicle maintained.
Office emergency kit
Emergencies can happen anytime — including when you are at work. Although your employer may have emergency supplies on hand such as first-aid kits, tools and some sanitation items, those kits may be incomplete or not cover your specific needs. For a work kit to keep in your desk, consider the following items:
First-aid kit with pain relievers and medicines you may need throughout the day
Emergency blanket
Leather-palmed work gloves
Safety glasses/goggles
Dust masks
Whistle with lanyard
Flashlight and extra batteries
Sanitary items including moist towelettes and hand sanitizer
RV emergency kit
If an RV road trip is your go-to summer vacation, remember to be prepared for emergencies. Having a basic home emergency kit with water, food, first-aid kit, tools, sanitary items, flashlight and batteries for your RV is important. You'll also want to consider including items from the car emergency kit such as local maps and jumper cables.
Boat emergency kit
Mechanical problems, weather or accidents can turn a fun-activity into an emergency with little warning when participating in activities such as boating, skiing or hiking.
When planning an emergency kit for boat safety, consider this list of suggestions from the U.S. Coast Guard:
Radio equipment
Charts of the local area and a compass
Anchor and extra line
Tool kit for repairs
Paddles
Bailer or bilge pump
Fire extinguishers
First-aid kit
Food and water
Extra clothing, such as warm clothes, a hat and foul weather gear
Personal items (sunscreen, medicines, sunglasses)
Hiking emergency kit
When skiing or hiking, consider carrying a first-aid kit, water and non-perishable food in case of a mishap on the trail. Try to pack extra clothing if able, since weather can be unpredictable and frostbite or hypothermia can set in quickly.
Also, be aware of any weather changes or wildfire forecast for the areas where you will be hiking.
Pet emergency kit
A disaster kit is also essential for your furry family members. Preparing a pet kit for them is important for their well-being, too. In addition to making sure you have their food, water, vaccination information and leashes, make sure you also have written care instructions.
Hurricane emergency kit
If you live in an area prone to thunderstorms, tornadoes or hurricanes, not only is an emergency kit vital, but so is a hurricane evacuation plan. Also, keep in mind the items needed for sheltering in place will be a little different than the items needed for a hurricane evacuation plan.
For sheltering in place, the basic home emergency kit listed above will provide a starting point for items you need.
Earthquake emergency kit
Earthquakes are a disaster that can often occur without warning. But if you live in an area with an earthquake threat, you can still make earthquake preparations to your home as well as keeping a basic home emergency kit (see supplies above).
Additional items Ready.gov suggests keeping in an earthquake emergency kit are:
Whistles to signal for help
Dust masks
Plastic sheeting and duct tape
Tools such as wrenches or pliers that can be used to shut off utilities
Having an emergency kit for your home, car, office or for outdoor activities may take a little time and planning, but it will be worth it if it helps you and your family ride out a disaster in safety.