Tips to find a quality contractor to help with your home recovery or project
If your area got hit hard by recent storms, scammers may arrive offering repairs to your roof and other property damaged. Learn to spot them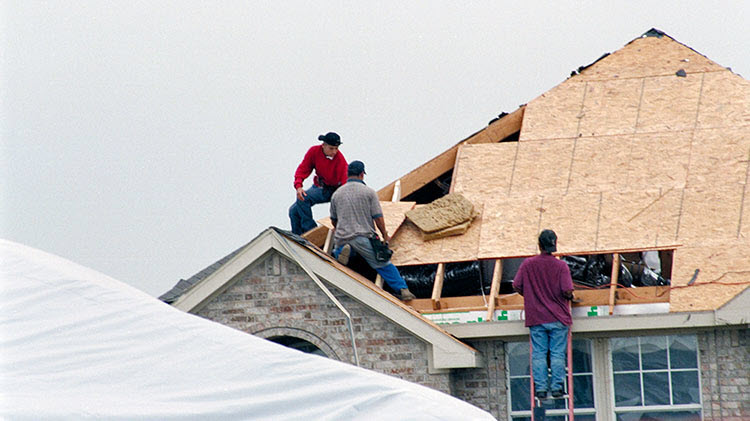 Neighborhoods recovering from storm damage to their roof or other property often attract the attention of repair companies, both reputable contractor and home repair scammers. Ask questions and do research before signing a contract for repairs.
And remember, the first step you should take is contacting your insurance agent and filing a claim. You should ask about your policy coverage and specific filing requirements. Share your home inventory with your insurance company and save all receipts for any items you purchase due to the storm, including those for food, temporary lodging, or other expenses that may be covered under your policy.
Tips to help find a quality contractor

Demand for contractors will be high after a storm. Before installing a new roof, or having repairs made following storm damage, consider the following when choosing your contractor:
Do your research: Contact your local Better Business Bureau to check for complaints filed against the contractor. You can also review contractor's reviews online.

You may also contact your National Roofing Contractors Association for assistance in locating a professional contractor in a specific geographic area at 800-USA-ROOF (800-872-7663) or go to nrca.net.
In Canada, you may contact the Canadian Roofing Contractors Association for assistance in locating a professional contractor in a specific geographic area at 800-461-2722 or go to roofingcanada.com.

Are they licensed or bonded? Look for an established, licensed or bonded roofer and request references. Not all jurisdictions require licensing of roofing contractors while other cities require contractors to have a license on file before they are able to get permits.
Do they have a certificate of insurance? Ask to see certificates of insurance to be sure both liability and workers compensation insurance coverage is carried, and are in force during the time the roofing work is being done.
Ask about a warranty: Carefully review and understand any warranty and watch for conditions that would void it.
Ask for a detailed estimate in writing: Insist on a detailed, written estimate clearly stating the quantity of materials needed (labor charges; work specifications), including approximate starting and completion dates, payment procedures and any necessary building permits.
Ask if they plan on using subcontractors: If they are, make sure you review the subcontractors as well.
Ask for references: Request a list of projects they have worked on in the past and request to speak with the customers.
Question low bids: Use caution (ask questions) before accepting a bid substantially lower than other bids covering the same repair work.
Be cautious of deposits: If the contractor offers you a pay today for a discount price, be cautious.
Get a receipt: Be wary of contractors who want cash and make sure you get a receipt of payment for each payment.
Getting repairs to your home or property after a natural disaster requires patience and diligence. You'll need to work with your insurance company, secure a settlement, then find a contractor who help you with the repairs. Don't rush. Take the time you need to thoroughly evaluate your options. And remember, don't have any work started on your property until after you have discussed the damage with your insurance agent.