A working-from-home checklist
From finance must-dos to productivity hacks, a few helpful tips can help you manage your own work-from-home setup.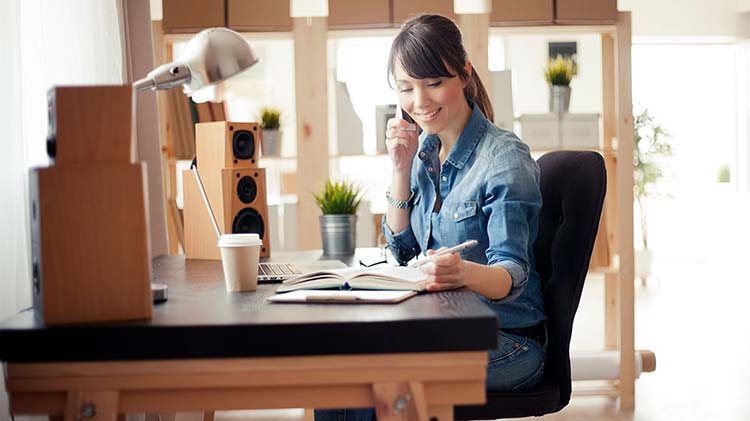 There are plenty of advantages to working at home, from increased flexibility to zero commute time. And more and more people, whether they work for themselves or work for a company, are pursuing some sort of work-from-home arrangement. According to a Gallup poll, over 43 percent of Americans who are employed work remotely at least some of the time. Follow these tips to set up a work-from-home arrangement that works for you and offers financial protection, too.
Make a plan for your work-from-home financial needs
Consider a tax professional for help. Especially for self-employed individuals, a tax pro can help establish good record-keeping routines and explain any home-based business tax deductions, expenses and financial considerations.
Establish an expense-tracking system. If you're employed by a company, you may have certain expenses they've agreed to reimburse you for. If you're self-employed, it helps to understand what expenses you'll incur and how you'll monitor them. You may want to consider a home office deduction worksheet, a mobile app and a dedicated business credit card, too.
Block off paperwork time. Include a weekly appointment on your calendar that you dedicate to invoicing, contracts and other clerical work, including timesheets if you are not self-employed.
Protect yourself. If you have a home-based business, you may need liability coverage as well as protection for any assets (computers, etc.) that you use.
Create an appropriate work-from-home area
Create a dedicated workspace. It's difficult to work and to share space, such as the dining room table, with others in your household. And your job may require you to have a closed-off space to take phone calls or concentrate. If you have space, consider a small room (with a door); if not, at least carve out a nook for a desk devoted solely to your job needs.
Invest in necessary equipment and software. Requirements for your job — printer, scanner, security updates — may differ depending on what you do and whether you're self-employed or employed by a company.
Monitor your work-from-home productivity
Establish a schedule

. The risk of working from home is that there's no one that serves as a check-in. No receptionist monitors your comings and goings and no co-workers are around to share meeting times and camaraderie. To counteract that, establish regular working hours so that you maintain a clear delineation between work and non-work time and align those hours with your co-workers.
Give yourself a break when you need it. Perhaps one day a week you choose to work at a coffee shop or library. It's a great way to break up what can be a monotonous schedule at home. (Just be sure that the internet access meets security protocols.)
Take care of your well-being
Follow regular mealtimes, just as you would if you worked in a typical office.
Apps can help remind you to get up from your desk and move, even if it's just a walk around the block.
Get out and see people. If you telecommute, set up (or join) office meetings, if possible, every once in a while. Establish a cadence of lunch meetings with clients, co-workers or potential clients.