CUSTOMER CARE
There's No Place Like Home
Connected Care
Stay connected to family and kids, and potentially help your elderly relatives stay in their homes longer, with safety and monitoring systems. A variety of connected care options can help you customize a solution to meet your family's unique needs with automation and monitoring systems and medical alert devices.
Leverage sensors to make sure loved ones are going about their normal routine.
Schedule automated lights to assist loved ones moving throughout the home at night.
Medical alert devices help loved ones to notify someone if help is needed – whether they're at home or on-the-go.
Medication sensors and reminders help aging loved ones manage their day.
Remote thermostat controls, automated lights and door locks, enable caregivers to help from far away.
Fall detection technology enables loved ones to be alerted of a fall even if the help button hasn't been pushed.
Get a system and receive exclusive State Farm® offers on ADT Pulse® and ADT Healthproducts.
What Does Connected Care Look Like?
Here are just a few examples of connected care options that can help you monitor a loved one and keep them safe.
Bedroom sensor tells you Grandma's awake.
Fall detection and medical alert options help put her at ease.
The fridge is opened at breakfast time.
Medication sensors are idle. Better call her!
The cat is fed. Good.
Living room lights turn on automatically.
Remote thermostat option helps you keep her warm.
Grandma's step counter shows an active day.
The Kid Knows Connected
Certain features shown in the video may not be available from all providers.
Special Offers on Connected Care Products
State Farm established relationships so you save when you order selected connected care products! Interested in a home monitoring system?
Shop Now
Or call 877-540-2171

Shop Now
Or call 877-540-2098
Product

ADT Health

ADT Pulse

Category

Medical Alert

Home Automation

Special Offer For State Farm Customers1

$

0 charge for equipment and free activation on all systems!
Purchase an annual plan and save over $60/yr!
Offer and redemption details
10% off installation2 and 10% off monthly monitoring fee*
* 36-month monitoring contract required. See important terms and pricing below.
Offer and redemption details
Available Components

In-home base station
On-the-go mobile PERS (includes mobile device with two-way communication and wireless pendent or wristband)
Waterproof help button of your choice: standard pendant, wristband, or fall detection pendant**

Remote video
Motion sensor
Temperature
Additional automation and monitoring capabilities

Monitoring Services

24/7 professional monitoring by ADT
Two-way voice communication to trained professionals
Fast and smart response
Temperature monitoring
Subscription costs vary

24/7 professional monitoring
Installation
Do it yourself in minutes
Professional, in-home security review and custom installation
Smart Phone Access and Control
No
Yes
Insurance Discount
N/A
Homeowners up to 10%
Renters up to 15%
Portable
Fully Portable***
Homeowners up to 10%
Partially portable
Already have a home security system? Contact your agent to see if you are eligible for the Home Alert insurance discount.
** Fall detection requires additional fee. Fall detection pendant does not detect 100% of falls. If able, user should always push their help button when they need assistance.
*** Provider must be notified of the move for proper dispatch.
Simple Insights® by State Farm
Take advantage of what we've learned about Smart Homes! Simple Insights® offers tips to stay connected, save on energy costs, automate your home, and receive alerts of potential losses.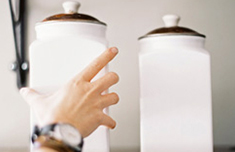 Your home is where you go to relax and retreat. But, according to the Centers for Disease Control, 47 percent of injuries requiring medical attention occur at home.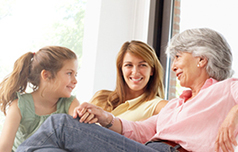 Caring for elderly parents in your home can be a big change and a challenge. One way to help ease the transition is to make physical alterations to your living environment.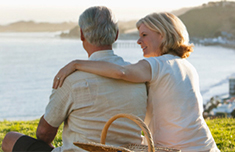 Americans as a whole are getting older and living longer. With increased longevity comes many new health challenges.
Convenience and Security to Fit Your Needs
Disclosures
*After purchasing your Smart Home product, contact your agent to apply for the Home Alert discount. Availability and terms of discounts vary by state. Contact a State Farm agent to learn more.
**State Farm 2014 data, based on national homeowner's averages.
Certain features shown may not be available from all providers.
1 Discount offers on home security products from ADT and Canary are not available in all states and may require an eligible State Farm Auto or Fire policy. Discount offers not available in Alaska, New York, North Dakota, Pennsylvania, or South Dakota. State Farm customers in Indiana, and North Carolina must have a State Farm Auto policy to be eligible for the discount offer. Discount offers only available in the US. Products and services are offered by third parties and State Farm does not warrant the merchantability, fitness, or quality of the products and services of the third parties.
ADT requires a 36 month contract. Security starting at $28.99/mo (without discount). Pulse features require upgrade. Applies to Traditional Service Level only without Extended Warranty Plan. See important terms and pricing here. Early termination fees apply.
2 10% off installation (before taxes) and 10% off monthly monitoring service charges valid for new ADT customers only. Limit one offer per new ADT customer address and cannot be combined with other offers or discounts. Offer valid for all ADT home security and automation services. Not valid on purchases from ADT Authorized Dealers.
ADT Pulse Interactive Solutions Services requires the installation and/or activation of an ADT alarm system with monitored burglary service and a compatible computer, cell phone or mobile device with Internet and e-mail access. Pulse Services does not cover the operation or maintenance of household equipment/systems not connected to the Pulse Services/Equipment. Not available in all geographic areas. You may be required to pay additional charges for equipment and services to utilize certain Pulse features.
Select medical alert systems may be covered by or may qualify for full or partial reimbursement under Medicare, Medicaid or private health insurance. For more information, contact your insurer or agent before purchasing such products.
An ADT Medical Alert system (Medical Alert Basic, Medical Alert Plus and On-The-Go Emergency Response) is not an intrusion detection system or medical device; ADT is not a '911' emergency medical response service and does not provide medical advice, which should be obtained from qualified medical personnel. Activation fee for an ADT Medical Alert Basic ("Basic"), Medical Alert Plus ("Plus"), or On-The-Go Emergency Response ("OTG") systems is $0. Offer includes free shipping for quarterly or annual packages purchased; $9.99 shipping charge applies to monthly monitoring.
Basic system requires either a month-to-month monitoring agreement at $27.99/month ($335.88/yr), quarterly at $83.97/qtr ($335.88/yr), or an annual at $311.88/yr.
Plus system (with digital cellular service) requires either a month-to-month monitoring agreement at $33.99/month ($407.88/yr), quarterly at $101.97/qtr ($407.88/yr), or an annual at $383.88/yr.
OTG system requires either a month-to-month monitoring agreement at $37.99/month ($455.88/yr), a quarterly at $113.97/qtr ($455.88/yr), or an annual at $431.88/yr. Fall Detection only available on Plus and OTG systems for additional $10/month ($120/yr). The Fall Detection pendant does not detect 100% of falls. If able, users should always push their help button when they need assistance. Digital cellular service not available everywhere and at all times. The OTG system and services use and rely on the availability of cellular network coverage and the availability of global positioning system (GPS) data to operate properly. The GPS is not operated by ADT. Systems shall remain property of ADT. Offer valid for State Farm customers only. ForeveRate™ excludes applicable taxes or modifications to services after initial purchase. Offer valid for term of agreement. Offer expires December 31, 2018.
©2016 ADT LLC dba ADT Security Services. All rights reserved. ADT, the ADT logo, 800.ADT.ASAP and the product/service names listed are marks and/or registered marks. Unauthorized use is strictly prohibited. Third party marks are the property of their respective owners and used with permission or allowed under applicable laws. All security systems and services contained in this offer are sold, installed and monitored by ADT and not by State Farm. ADT is not an insurance company nor affiliated with State Farm.
License information available at www.ADT.com or by calling 800.ADT.ASAP. CA ACO7155, 974443, PPO17232 FL EF0001121; LA F1639, F1640, F1643, F1654, F1655; MA 172C; NC Licensed by the Alarm Systems Licensing Board of the State of North Carolina; 7535P2, 7561P2, 7562P10, 7563P7, 7565P1, 7566P9, 7564P4; NY 12000305615; PA 090797; PRIVATE PATROL: CA ADT Holdings, Inc., PPO 17232, 21171 S. Western Avenue, Torrance, CA 90501 (310) 829-7981; See full Terms & Conditions.

MS 15019511.
Products and services are offered by third parties and State Farm does not warrant the merchantability, fitness, or quality of the products and services of the third parties.