Boat safety
Help stay safe on the water by making sure you're prepared in case of an emergency.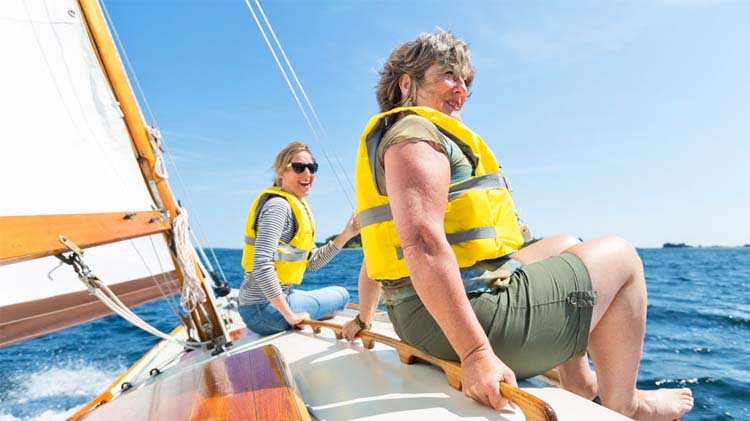 Those of us lucky enough to own boats probably don't spend the majority of our time on the water. That general lack of familiarity and experience is why when you do set out in a watercraft — whether for fishing, swimming, water skiing or just cruising — it's extremely important to familiarize yourself with the rules, requirements and recommendations of boating safety.
Get your boat checked
Before you get on the water, make sure your boat is as seaworthy as you are by scheduling a U.S. Coast Guard Vessel Safety Check. This courtesy evaluation is a free, fast and convenient way to check your boat's compliance with state and federal boating equipment regulations. And don't forget to inspect your boat trailer as well.
Boating safety courses and tips
You wouldn't get behind the wheel of a car without a driver's education, so why would you get behind the wheel of a boat without proper instruction? A boat safety course will teach basic marine operation, navigation and safety, as well as federal and state boating regulations.
Still need convincing? The reasons for taking a boat safety course are as simple as 1-2-3 (and 4).
It's the law. 36 states now require operators to take an approved boating safety course as part of their boat licensing or safety certification process.
Other potentially life-saving tips to consider:
Know the rules. Before launching your boat, learn the nautical "rules of the road" by taking a boater safety class. They are a large part of boating safety, especially when meeting, crossing or overtaking another boat. Learn the meaning of buoys and other water markers, maintain a safe speed and keep a watchful eye on the waters for smooth sailing. Check the U.S. Coast Guard Boating Safety Resource Center for approved boating courses.
Protect against propeller strikes. Make sure all passengers are accounted for before starting the engine, and wear your emergency cut-off switch at all times. When people are in the water, ask one person to propeller-watch. Consider additional propeller-safety devices, such as guards or sensors.
Dress for the water temperature, not the air temperature. Hunters and fishermen boating during colder-weather months should remember that cold water can kill — always wear life jackets while boating.
If you can't swim, take lessons. Even a few rudimentary lessons could someday mean the difference between living and drowning.
If your boat capsizes, stay with it. Not only will it provide flotation assistance, but it's easier for rescuers to spot.
Always wear a right-sized, U.S. Coast Guard-approved life jacket. Wear it, don't stow it. Tucked-away life jackets are useless in an accident. In 2018, 77% of fatal boating accident victims drowned. Of those drowning victims, 84% were not wearing a life jacket.
Be aware of carbon monoxide. All internal combustion engines produce carbon monoxide, an odorless, colorless and poisonous gas. Poor cabin ventilation, blocked exhaust outlets and faulty equipment can contribute to the problem, but carbon monoxide emissions can affect the boat's swim platform and other areas near the engine.
Don't boat under the influence (BUI). The use of alcohol is involved in about 19% of all recreational boating fatalities, according to the U.S. Coast Guard.
Leave a float plan. If you're going to be on the water for a couple hours, make sure someone on land knows where you're going and when you plan to return.
Appoint an assistant skipper. Don't be the only person on your boat who knows how to operate the vessel and where the safety and first aid equipment is stored.
Check the weather. Consult local forecasts before heading out, especially during hurricane season.
Have communication options. Bring a mobile phone sealed in a water resistant bag, but don't rely on it completely.
Use a kill switch lanyard. On power boats and personal watercrafts, this simple tether between you and the ignition key shuts the engine off if you fall overboard or lose your balance while driving, reducing the potential for harm to you or others in the water.
Gear to have on your boat
You can't always prevent emergencies on the water, but you can make sure you're equipped to deal with them effectively. The U.S. Coast Guard suggests you have the following items on your boat:
Radio equipment
Charts of the local area and a compass
Anchor and extra line
Tool kit for repairs
Paddles
Bailer or bilge pump
Fire extinguishers
First-aid kit
Food and water
Additonal clothing (such as warm clothes, a hat and foul weather gear)
Personal items (sunscreen, medicines, sunglasses).
Purchase boat insurance
Your home, your car and your boat are all investments worth protecting, and that means buying boat insurance. Know your boat insurance options before you get in the water. Reviewing the kinds of coverage you may receive could help identify some potential discounts for safe boaters.