Tips for throwing a safe football party
Everyone loves a party with friends to watch the big game — just don't forget to nominate a designated driver for after.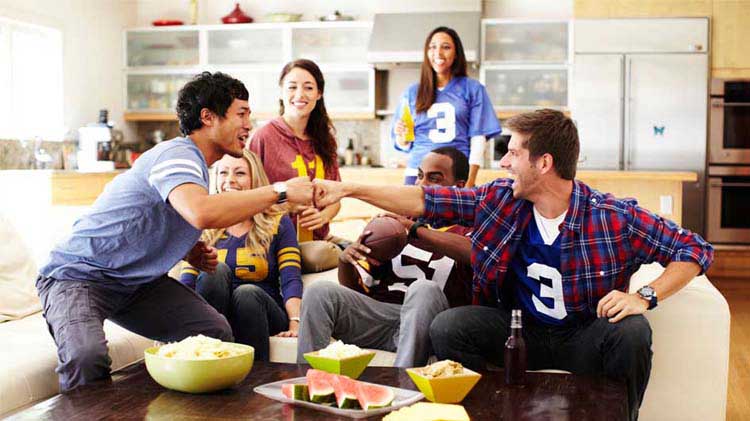 Big games and playoffs are more fun when friends get together to watch them. Planning ahead is good defense. According to the National Institute on Alcohol Abuse and Alcoholism (NIH), in the year 2019, there were 10,142 car accident deaths related to alcohol and that accounted for about 28% of all driving fatalities. In addition, the FBI estimates in the same year, there were more than 1 million arrests of people driving under the influence, and more than 300k arrests for drunkenness.
These suggestions can help hosts and their guests keep the party — and the ride home — safer when the big game takes place this February.
Home team
You are the referee — so keep the game in check by preparing the "field" inside:
The kitchen is where everyone huddles, and distractions can cause you to take your eyes off the ball. No half-time break if you're the one frying, grilling, boiling or broiling food because the leading cause of kitchen fires is unattended cooking.
Don't leave food like chicken, eggs or cheese out too long, risking illness
Make the hard calls for safety. Throw out the yellow flag if someone has been drinking and tries to leave with keys in their hands — that's a party foul. Suggest your guests have a plan to get home safely, such as a rideshare or have them stay the night
Know your MVPs. Give the designated drivers the best seat in the house and make sure they have plenty of alcohol-free choices.
Be sure to prepare the "field" outside:
Visiting team
Facing a drive to the party or the game? Remember the safe travel plays.
Eliminate distractions. Keep two eyes on the road and two hands on the wheel.
Drive within speed limits.
Buckle up, every trip, every time.
Stay sober and alert behind the wheel.
Plan ahead — anyone drinking should not be driving. Use alternatives modes like ridesharing to get there safely.
Be prepared for unexpected field conditions. Remove junk from your vehicle trunk and add a car emergency kit and a road safety kit, including items like a shovel, snow brush, ice scraper, flashlights, jumper cables, sand or kitty litter, warning devices (flares/triangles) and blankets, water, non-perishable food and any necessary medicines.
Check game-time weather. As temperatures fall, tire pressure can too. Make sure your tires are ready for the drive down the field.