Dangers of texting while walking for pedestrian safety
Answering a message, checking social media: The simple action of texting and walking equals distracted walking. The dangers are real, but there are steps to take to minimize your risk.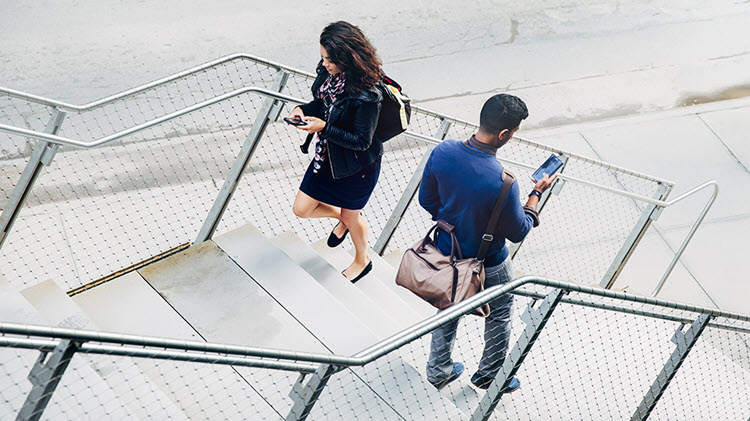 YouTube is brimming with videos of people using their smartphones as they accidentally walk into walls, fall down steps or flip into fountains. We laugh, knowing those incidents of texting and walking typically result in little more than bruised egos.
Unfortunately, that's not always the case. Pedestrian traffic deaths are at their highest since 2009, and distracted walking is likely partially to blame. In just 10 years, there have been over 51,000 pedestrian deaths, an increase of 53%.
If you're looking down at your phone, you're less able to see what's happening around you. The dangers of texting while walking include missing a light that changes or a car that shifts direction, leading to cell phone pedestrian accidents. In addition, if someone is texting and walking, they may be less likely to obey guidance measures such as staying within the pedestrian crosswalk lines.
Distracted walking laws
The problem is becoming so pervasive that legislators in many U.S. states and cities are working on texting and walking bans. Honolulu was the first major city to enact such a law, which allows fines up to $35 for pedestrians who use their phones while crossing streets. Several other smaller municipalities have followed suit. Rexburg, Idaho, specifically outlawed texting while crossing the street, while Montclair, California, enacted a law banning crossing the street while viewing any electronic device.
Some European cities are trying a different approach to reduce texting while walking deaths. In the crosswalks of busy intersections, they are working to install lighted strips that change colors with the traffic lights to alert heads-down pedestrians when they can safely cross.
Distracted walking safety tips
Protect yourself from a texting while walking injury by following these pedestrian safety tips:
Stay off your phone. Ask yourself if it can wait. Chances are, it can.
Stop walking. If you urgently need to use the phone, find a safe place to step aside. Complete your call or text before resuming your walk.
Prepare ahead of time. If you know you want to listen to music or a book during your walk, queue up the playlist before you move.
Look up. If you absolutely must take a peek at your phone while you're walking, hold it higher in your visual field instead of looking down.
Obey the laws. Cross only at crosswalks whenever possible, and obey all traffic signals.
Be attentive. Frequently assess your surroundings, and before crossing the street, make eye contact with drivers so you know you've seen each other.
Use helpful technology. Consider software that reads messages aloud and enables voice-to-text typing so you can keep your head up and hands free.
Turn down the volume. Keep your phone's volume to a reasonable level so you can hear what's happening around you. Noise-canceling headphones are a definite no-no when walking.
Finally, when you're behind the wheel, think about distracted walking. Be particularly careful when backing up and as you enter busy intersections. Paying attention to pedestrians who aren't could save both of your lives.