Let's build your family financial plan today with some expert guidance and useful budgeting tips.
Are you ready to learn how to manage money as a couple?
It's a well-known fact: Money is one of the most difficult subjects for many couples to talk about. This course addresses not only how to do it – but how to do it well. 
In Money Management for Couples, Tonya Rapley, State Farm® Agent Axel Jimenez, and Next Door® Financial Coach Dan Wood equip you with the simple, no-nonsense knowledge you need to break down barriers and have conversations.
Money Management for Couples arms you with the tools, support, and education specifically designed to handle your money, plan, and budget like a team. Together, you will learn how to manage your money thoughtfully and with remarkable discipline. 
Watch the video and you'll be relieved to learn that you're not alone! Tonya, Axel, and Dan have seen and heard it all from the couples they've worked with, so don't let your nerves hold you back from breaking through.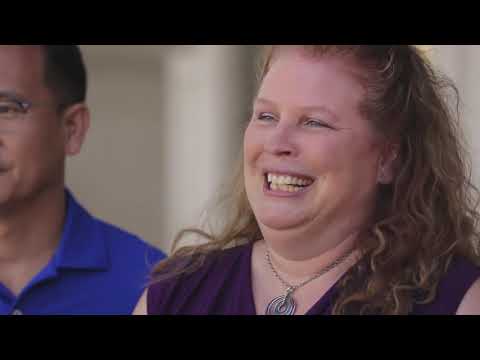 Breaking down Money Management for Couples.
This course is conveniently divided into shorter segments so that you can enjoy each on your own schedule. Subjects covered include:
Download these financial tools. 
Check out the useful downloadable Money Management for Couples Guide to get and keep you on track for achieving your financial goals – both as a couple and individually.
Hey, you're already on a journey together – why not make it the best it could be? You're bound to learn something new within each and every chapter.
So, let's get started and see where the day takes us.
Make a habit to talk it out.
Here's the thing – there's no one right way to manage your money as a couple. The reality of your situation is unique to you and your partner. The approach you take needs planning and, most importantly, communication. 
The focus is to talk about your goals and create a baseline together from there. You're basically building a financial foundation to help budget, plan, and make decisions that work best for your shared future.  
Budgeting Tip: Plan a sensible date night to talk specifically about budgeting.
Get a sense of direction. 
You have goals as individuals, but have you worked out your goals as a couple? Talking about and choosing shared financial responsibilities gives you a chance to define your goals. 
Have a conversation about where you both want to be in the short- and long-term. From there, you could set goals to make it happen. 
Budgeting Tip: Set clear and actionable goals by including a specific dollar amount and deadline for each.
Start putting the pieces together and build a solid budget. 
There are key elements to building any budget. You need to include the bills or expenses you have monthly or multiple times a year. 
Budgeting Tip: Take an average of your last three months of spending to figure out what you could budget for variable (non-fixed) expenses. 
Plan ahead and save money for any non-monthly expenses. This works great for taxes, holiday shopping, and license renewal fees, to list a few examples. 
Also, to help keep on track with your budget when an unexpected and unwelcomed event strikes, start putting money into an emergency fund to cover your expenses for a certain amount of time. 
Budget, rinse, and repeat. 
Budgeting isn't a one-and-done effort, especially as a couple. Pay close attention during the first several months of trying out your budget. Take notes about what adjustments you need to make. Most importantly, talk through what's working – as well as what's not – with your partner. 
Keeping the communication lines open and making adjustments will help you both create a plan that sets you up to reach your goals. 
Grab the right tools for the job. 
Everyone's preferences are different. Some people like budgeting apps, while others can't let go of their pens and paper. Try what sounds good to you and don't be shy about dropping the ones that are just not working. 
There are plenty of options out there. Take the time to pick and choose until you find the right budgeting tools for you. 
Get in the know.  
These ideas are covered in more detail in the Money Management for Couples video. Watch the video, download the free tools, and work as a couple to get a better handle on your finances. 
There's no better time to get started than right now. So, let's start today.