Reaching your financial goals
Your financial goals don't have to be lofty or complicated. Keep them simple and attainable.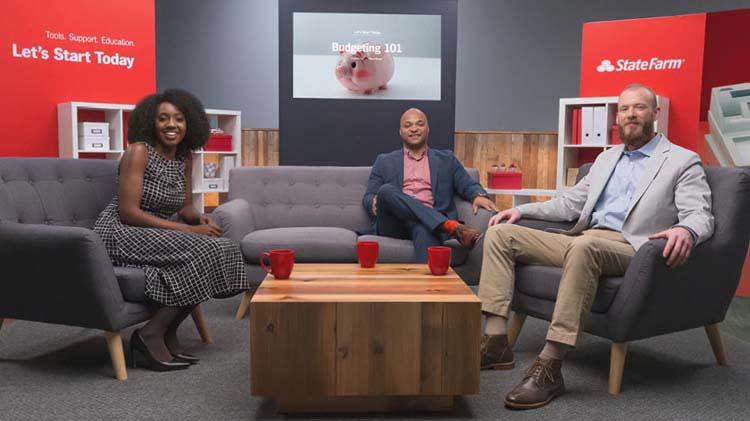 Have you put off budgeting for far too long?
In this initial course, Financial expert Tonya Rapley, State Farm® agent Kameren Nelson and financial coach Eric Joynt tackle the "B" word and serve up some engaging insights on the subject.
More people than you can imagine are afraid to navigate the budgeting waters simply because they don't know where to start. Or, they weren't taught the importance of budgeting growing up. These five courses definitely fill those gaps and bring you confidently along in easy-to-watch chapters.
Budgeting
If you've been putting off preparing a budget, you've come to the right place. In this chapter, Let's get going on that budget, we show you how to kickstart your motivation and budget like a boss.
Money management for couples
Couples who manage money together make decisions that are better for their financial future. Grab your significant other and get started on some practical money management methods today with this chapter, Money management for couples.
Investing 101
In this Investing chapter we share what you need to know to develop a future-friendly financial plan of attack. Tomorrow arrives fast, are you ready?
Facts about credit
Let's have fun while learning some facts about credit. This course, Credit score facts and myths, is a handy reference guide for anyone curious about understanding their credit score and steps they can take to improve it.
Financial foundations for Freelancers
Not everyone wants a 9-to-5 job. This course, Financial foundations for Freelancers, helps freelancers navigate their unique and ambitious paths with good, sound advice.
The rewards of properly managing your money are liberating and empowering. These courses are thoughtfully designed so that you can watch them in their entirety, or in bite-sized chapters of three-to-seven minutes. However you choose to do it, let's start today and get you on the path to advancing your financial well-being.