Snowblower storage tips
Use this checklist to ensure your snowblower maintenance routine keeps this machine in good working order for whenever winter weather strikes.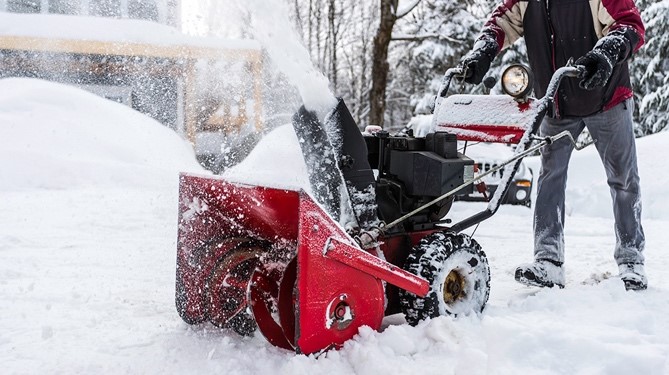 When you're dreaming of spring, it's easy to forget about winter — and your snowblower. But even if cold-weather storms are over, there are a few off-season snowblower storage chores you'll need to complete. From a quick oil change to emptying the fuel tank, key snowblower maintenance steps will ensure your machine is blizzard-ready come next year.
Follow this checklist before parking your snowblower for the season.
Tools you'll need for your snowblower
Small gas can (for storage)
Fuel stabilizer
Spark plug
Outdoor mat
Wrench/screwdriver
Rags
Preventive rust spray
Oil
Make a plan for leftover fuel
You're so used to fueling up that you may not remember it's time to drain the fuel for the season. Use a siphon to drain the gas tank (place excess fuel in a spare gas can) and store the machine without the fuel. If you must keep gas in your snowblower, add a fuel stabilizer to keep the ethanol in the gas from causing issues with the engine's fuel delivery system.
Replace the spark plug
Swap out the spark plug for a new one as needed. (Double-check the owner's manual for specific instructions.) This is an inexpensive part (and easy-to-do snowblower maintenance) that starts the engine, so it's important to keep it in top shape. Pros recommend installing a new one each season.
Tighten bolts
Fasteners, nuts and bolts tend to loosen as a result of the snowblower's vibration during snow-cleaning tasks. Do a thorough once-over to make sure they didn't come loose throughout the season, and tighten as needed.
Remove salt and lubricate.
Wiping down the snowblower — especially if salt was used on the driveway — can help prevent corrosion. Once you've completed that task, spray any metal parts you see with a preventive rust spray.
Check for wear and tear
Snowblower scraper bars or blades, which scrape off snow, and skid shoes, which protect the snowblower from concrete, become worn through multiple seasons. Prior to snowblower storage, make sure these two components are in good shape.
Refill the oil
Drain the old oil (discard appropriately according to your municipality's rules) and add new oil before you store your machine. This prevents old oil from turning to sludge or creating buildup, which can ruin the engine. Tip: Instructions vary by manufacturer, so be sure to consult your owner's manual for specifics 
Keep a log
Once you've finished checking all of the components, write down the date the job was completed. (You can do this in an electronic note, too.) Keep a log to note what kind of maintenance you've done. Knowing the last time you replaced the spark plug will come in handy once next year's weather takes you by storm.
Use covered snowblower storage
Even the smallest amount of moisture can cause snowblowers to rust, so it's best to store this expensive machine in a dry place. Tip: Place the snowblower on a mat and cover the rest of the components in the off-season to maximize protection.