How to prepare an RV for a hurricane
Whether you're ready to hit the open road or park for the season, it's important to make sure your RV is prepared if a storm blows in. A few simple steps now can help keep you, your family and your RV safe during a hurricane or high winds.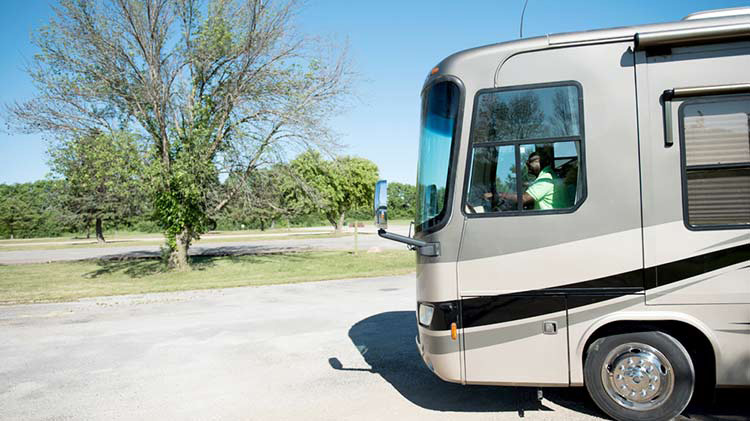 Before you travel
Have your emergency plans in place and be prepared for the unexpected before you hit the road.
Make a family storm preparation plan.
Create a hurricane evacuation plan.
Test your generator before you leave, making sure it is in good working order and you have plenty of gas for it.
Make sure your RV's gas tank is full — in case you need to evacuate.
Prepare the inside of your RV
Know what you have inside your RV and how to keep important things safe if a storm hits.
Seal all important documents in waterproof bags or containers.
Shut all doors and windows to help prevent water and wind from getting inside.
Create an inventory of everything in your RV using this home inventory listing as a reference.
Keep some extra batteries, duct tape, garbage bags, phone chargers and tools in your RV.
If you need to evacuate
Secure items inside and out and always follow evacuation orders.
Evacuating with the RV
If authorities order an evacuation, always follow the instructions.
Avoid driving through water.
Leaving your RV behind during an evacuation
Find a safe spot to park your RV, and know how to protect it in the event of high winds or a hurricane.
If possible, put your RV in an enclosed storage facility or try to park it next to a building (the opposite side from where the wind is coming).
If you're at a campsite or out in the open, choose an elevated site away from large trees and point the end of the RV that has the least amount of windows in to the wind.
If you can do so safely, remove any loose branches or items nearby to prevent them from blowing into your RV.
Empty the holding tanks and then fill them and all other tanks with fresh water to help add weight for holding down the RV.
Turn off propane cylinders and cover the regulator.
Cover the vents and air conditioning unit.
Put as many inside items, as possible, securely away in boxes or cupboards.
Know where the transfer switch for the generator is located so you can isolate electricity from the rest of the power grid and prevent electrical shocks.
To help prevent leaks during a hurricane or other inclement weather, ensure the entire RV, including the roof, is maintained throughout the year according to manufacturer guidelines. In case of a category 1 or 2 hurricane, a tarp made specifically for your RV may be a good cover to help prevent leaks.
Also bring in the water and electrical cords so they do not get damaged.
How to tie down your RV for a hurricane
Anchor your RV. If it doesn't have stabilizing jacks that might be used for anchoring, there are other options available for purchase.
Tie down travel trailers.
Be sure to remove all awnings and store them in the RV or another safe place.
Consider installing hurricane window clips, which allow you to easily board up your windows by sliding plywood into the clips.
And don't forget to secure all items outside your RV like lawn chairs, tables, yard ornaments, grills or toys. If appropriate, bring them inside the RV and secure them so they don't move around.
Hurricanes and high winds can be scary, but planning ahead helps you weather the storm. So before you hit the road for adventure, be sure your insurance coverage for the RV is up to date.