Motorcycle maintenance: spring checklist
Use these tips to get your bike in top shape for riding season.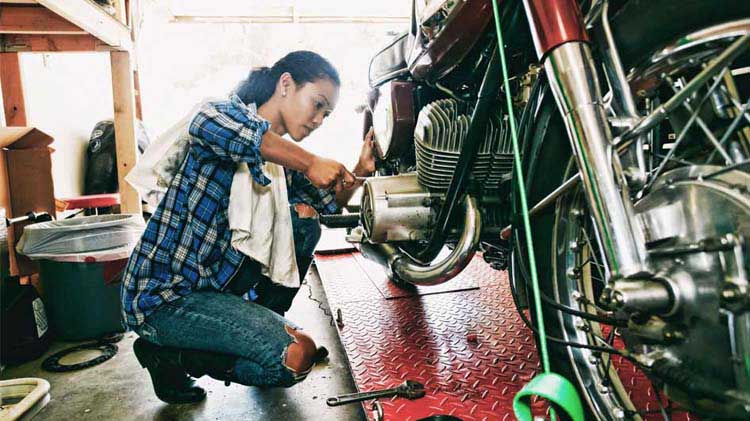 Are the warmer weather and clear roads filling your head with fantasies of revving up your motorcycle? To help make sure you have a smooth and safe ride, check off these motorcycle maintenance tasks from your list before hitting the highway.
Do a walk-around 
You should start by walking around your bike and looking at every part. Look for leaks. Examine pivot points. Are any of the moving parts showing wear and tear? Turn the key to turn on the lights and honk the horn
Oil (and gas) up
Don't start a new riding season with old gas. Before even attempting to start up a bike, drain any fuel from carburetors that's more than six weeks old. Gasoline can evaporate and turn thick when left to sit, which can plug up carburetor jets and passageways. And remember to check the oil, even if you topped it off in the fall. Generally you should change your oil at least once a year. If you put a lot of miles on your bike, you'll probably want to change it more often
Brake check
Check brake pads, brake lines and brake fluid before setting out on your first ride. Replace worn pads or cracked lines. Also, test front and rear brakes separately to make sure they're in working order and free from scraping or squealing.
Check your air filter
Clean your air filter regularly by using compressed air or simply replace the filter if it's too hard to clean. A dirty filter can cause your engine to work harder
Charge your battery
A common issue with a bike sitting in storage all winter is a drained battery. While many riders remove their batteries during the winter and keep them powered up with tender or trickle chargers, those who skip this step need to charge up before spring. But it's ideal to keep it at a 100% charge even when not in use
Inspect the tires
Nothing stops a ride faster than a flat. Check air pressure in both tires: Low pressure can make motorcycles difficult to handle while also increasing tire wear and tear. Also, check for signs of damage such as cracks or dry rot. Replace the tires if needed.
Clean the chain
Most chains are now O-ring chains requiring less cleaning than the older unsealed chains. Clean the chain when it gets dirty or according to what your owner's manual suggests
Wash your motorcycle
Give your bike a good wash and dry when you bring it out of storage. And pay attention to the details: A close inspection can help you spot small issues early on.
Brush up your skills
It's been a while since you've been on the bike, so start slowly. Take a spin around the neighborhood and make sure everything is in working order. Also check that your riding gear (helmet, jacket, gloves) is in good condition. You might also want to review these motorcycle safety tips as a refresher, especially if you are riding double. A little upfront time and effort is a small price to pay for a safe season on the open road!
In addition to the quick visual inspection, fluid levels, tire inflation/condition, controls operation and lamp functions should be checked before each ride, not just at the beginning of riding season. Always consult your owner's manual, and take your bike to a mechanic for extensive maintenance tasks
And check with your local insurance agent to make sure you have proper motorcycle coverage and that everything is current for your motorcycle.