Snowmobile tips for beginners
Learn how to be prepared and stay safe when you hit the trails this winter.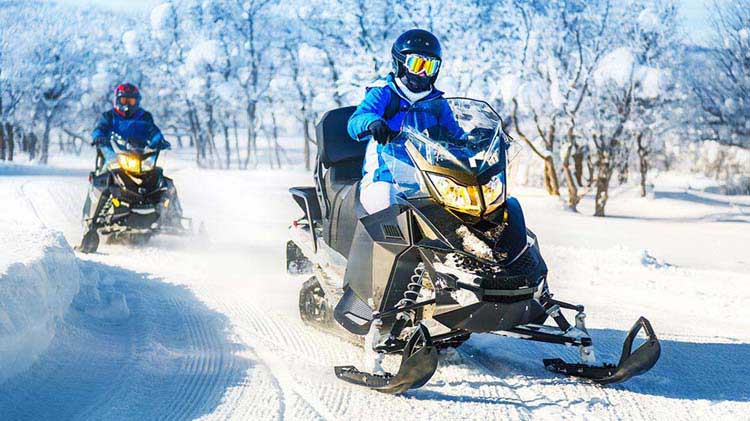 If you're new to snowmobiling, you may not be familiar with all the preparation that goes into a day on the trails. These simple tips can help you stay safe as you start out.
Before you head out on your snowmobile
Contact your insurance agent to review your riding history and discuss ways to help protect yourself with snowmobile insurance.
Check your state and local requirements regarding licensing, safety certificates and any additional training.
Register your snowmobile and make sure your current registration decal is applied.
Check your fuel and fluid levels along with the overall condition of your machine.
Always check the weather before you leave for the day, paying attention to both the temperature and the wind chill.
Snowmobile gear
Wear appropriate cold weather gear such as a snowmobile suit, snow bib, jackets and gloves to cut the wind, repel water and allow ventilation. And dress in layers since temperatures can shift during the day.
Face or ski masks, also known as balaclavas, are best; don't wear scarves since they can easily tangle or snag on things.
Try gloves or mittens with removable liners. Removing the liners can help the gloves dry faster, but can also be used as a light glove by themselves. Or you can use the shells as a second pair of gloves if it gets too warm.
Use hand warmers in gloves and boots.
Wear a helmet that meets the current Department of Transportation certification standards. Use an anti-fog spray on your goggles or helmet visor so your vision is never compromised while riding.
Always bring a cellphone in case of emergency. To save battery life, store the phone in an inside pocket, but not one too close to the body because of sweat.
Check out how to stay warm and safe for other cold weather activities.
Snowmobile riding tips
Below are some basic riding techniques provided by the Iowa Department of Natural Resources (DNR).
When riding uphill, kneel and lean forward. Maintain your speed until you get to the top.
When riding downhill, stay seated as far back on the seat as possible. Stay in low gear and pump the brakes firmly every few seconds. Allow riders coming up the hill to pass you before going down.
Lean into turns to gain more control; placing more body weight forward and into the turn keeps the inside ski on the ground for traction.
If you have to stop, pull off to the right as far as you can. Never stop on a hill or curve.
If you have to cross a road, and it's not an actual snowmobile crossing, pick a point with good visibility in both directions. Come to a complete stop and look both ways before crossing.
Drive forward slowly because your snowmobile will feel different on pavement.
Only carry a passenger if your snowmobile is built for that. A passenger will change the center of gravity and steering will feel different. Make sure your passenger knows to lean into turns with you and holds on at all times.
On the snowmobile trail
Know the area. And remember with more snow comes more responsibilities. Fresh snow can be especially dangerous as it covers possible obstacles in your path or can reduce visibility.
Be aware of the differences between private land and public trails. Pay attention to signs making the distinction or check with the local DNR where you will be snowmobiling.
Always travel with other snowmobilers and let someone at home know where you're headed and when you plan to be back. Never go alone.
Use good judgment and don't be too overconfident while riding.
Don't follow others too closely, and learn hand signals with your group.
Watch for hazards such as trees, barbed wire and other snowmobilers. Again pay attention to signs designated just for snowmobilers on marked trails, such as stop ahead or yield.
Always ride sober.
Go slower at night.
Ride on the right side of the trail.
Bring a first aid kit, water and nonperishable food items. If you're planning a longer trip, bring a shovel, warming blankets and supplies to build a fire.
Being prepared and remembering these simple snowmobile tips can help you stay safe and have fun on every turn of the trail. Be sure to check out these snowmobile storage tips when the season is over.