State Farm® supporting The Humane Society
For four-legged friends, an emergency can get off to a rough start. Here's how to prepare.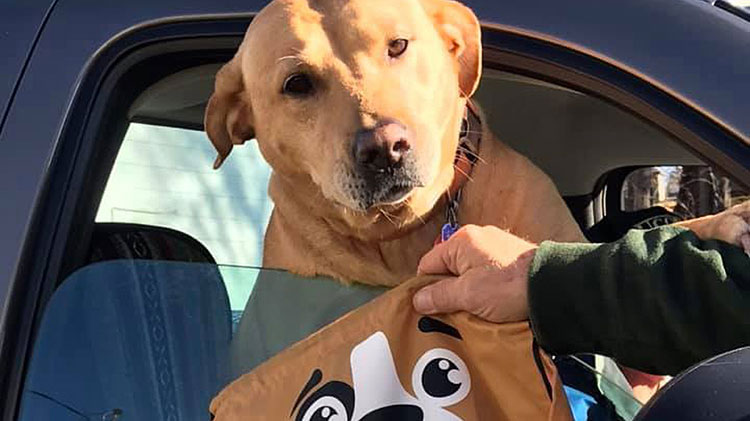 During a disaster, Joanne Bourbeau, the board chair of the nonprofit Vermont Disaster Animal Response Team (VDART) as well as the Northeast Regional Director for The Humane Society of the United States (HSUS), works behind the scenes to coordinate a response to keep animals out of harm's way. That means when incidents ranging from widespread floods to traffic accidents overwhelm local resources, they procure and set up temporary animal shelters, transport pets to safety and provide for their needs — such as food, water, shelter and veterinary care — until they can be reunited with their families. But she's not the only one who needs to prepare.
While ensuring the safety of you and your family remains the top priority, handling an animal's care is also an important step in disaster preparedness. How a family plans to handle its pets is often overlooked during the planning period, and that leaves some pet owners scrambling during times of stress. "We never want people to be in a situation where they have to choose between their animals during an evacuation," says Bourbeau.
Instead, Bourbeau recommends that pet owners tailor a plan and pack a survival kit to meet the needs of the entire family — including four-legged companions. Here are some ideas on how you can get started with a disaster-preparedness plan that includes your pet.
Pack the essentials
Three days' worth of essentials is a good rule of thumb to start; you might be asked to shelter in place or asked to leave your home, says Bourbeau. Having enough food and water for your pet — and the entire family — can make it easier to ward off emergencies that include stay-at-home orders or require stays in temporary housing. Pet owners should also consider including extra medications, comfort items and cleaning supplies in their pet's disaster kit.
Make it simple
Families can pack supplies — for both pets and humans — in one plastic container, which is easy to carry outside of the home or fit in the trunk of a car, says Sarah Speed, executive director of the Pennsylvania Animal Response Team (PART), a statewide non-profit with county-based response teams dispatched by 911 throughout the state during animal emergencies.
Tailor the details
Add to your emergency stockpile, depending on the needs of your pet. For instance, some animals may require a restraint during car rides while others simply need a carrier. Families often include microchip paperwork to make it easier to be reunited with their animal. For cats, litter and a litterbox are other essentials, says Speed. Consider adding toys and treats, which can lower an animal's stress during difficult times, she says. Dogs may need a leash and additional grooming essentials.
Write it down
Before volunteers join Bourbeau's disaster response team, she gives them the same advice she gives others: Jot down an emergency plan and share it with loved ones who need to be in the know. That means covering issues such as designating a caretaker for the animal if the family must evacuate the home. "We require all of our volunteers to have a personal written plan that spells out where their animal is going to go," she says. "Unless you have it in writing, it's hard to remember when you're on the go — and you won't be able to volunteer if your own family isn't safe."
Prepare a backup plan — and another backup plan
Even if you've got your emergency response plan in place, having a backup is important in case of unforeseen circumstances, says Bourbeau. "We always want a Plan B or Plan C, especially for people who have a lot of animals or a wide variety of animals," she says. Backup plans often include neighbors or others living nearby willing to serve as reinforcements in case loved ones are suddenly unavailable to provide pet care, she adds.
Revamp on a yearly basis
Discuss your go-to plan and repack essentials annually. Consider swapping out snacks, pet food and even drinks and replacing them with items that have a later expiration date. Be sure to inventory non-food items for your entire family — including your pet — such as water bowls, medicine and hygiene products. "Keep it all together and update it," says Speed. "Make it part of your spring-cleaning plan."
Meet State Farm's Disaster Go Bags
When disaster strikes, finding help fast — be it for yourself or your pet — is essential. At State Farm, we're making it just a little bit easier. We've partnered with VDART and PART — and soon, other states — to distribute our Disaster Go Bags, which owners of four-legged friends can store and grab in case of an emergency. Not only do we include food and toys, we pack other basics such as collapsible drinking bowls, dog waste bags and a mini first-aid kit. Our coloring book on animal safety even helps the kiddos relax during times of stress.
"The Go Bags have everything that families need to start building their own personalized disaster kits," says Bourbeau, who has most recently distributed them in homeless shelters and food pantries to pet families in need. "It was a win-win situation to be able to provide families with this potentially life-saving resource."