Pressure washer safety tips
You've got a big mess, but before you set the power washer to blast take time to learn a few tips that might help prevent damage to what you are washing.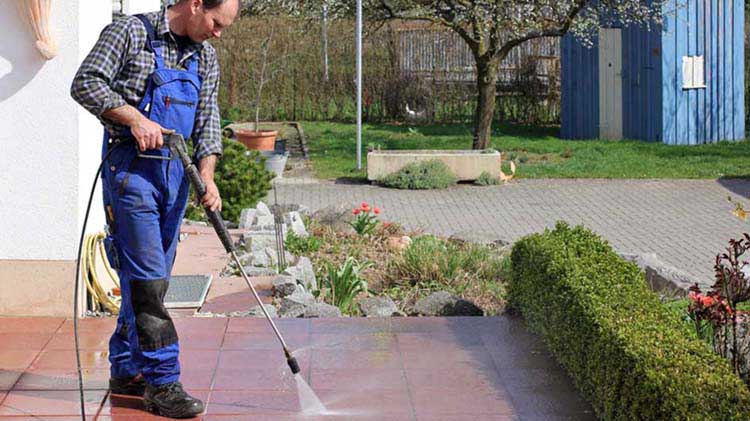 Did you know a pressure washer can spray water up to 4,000 pounds per square inch (PSI)? That's 80 times the force of a garden hose. These pressure washer safety tips will help you handle that extra power.
What should I wash with a power washer?
As tempting as it is to pressure wash everything, some surfaces are not able to handle the force. You should avoid pressure washing these surfaces:
Wooden furniture
Outdoor fabrics
Resin or plastic furniture
Crumbling concrete
Painted surfaces (unless you want to remove the paint)
Roof
Car (if you need to use the pressure washer, set to a lower PSI level)
How should I clean and store my power washer?
Keeping your pressure washer in good condition can help improve safety. Always check it before use and follow these guidelines:
Make sure your model has been approved by an independent testing organization, such as Underwriters Laboratories.
Never attempt to repair a damaged hose. Always replace it.
Don't clean the machine with its own gun — water can damage the machine and increase risk of electric shock.
Have a qualified electrician check the unit if it trips a circuit breaker.
How to use your pressure washer safely
Use the tool responsibly by following these important pressure washer safety tips.
Never operate a gas model indoors.
Use only extension cords designed for wet conditions, and always plug the unit into a grounded outlet.
Wear safety glasses, gloves and rubber boots for protection.
Do not spray others, animals or yourself — power washers can easily penetrate skin.
Don't let children operate the machine, and keep them a safe distance away when you're using it.
Use only cleaners approved for your model, and never use chemicals such as pesticides.
Be cautious around power lines, service feeds and electric meters.
Stand three to four feet from the surface you are cleaning to prevent harmful ricochet.