How to safely sell a car in a few simple steps
Selling your car on your own instead of to a dealership can be a good deal especially if your car has high value.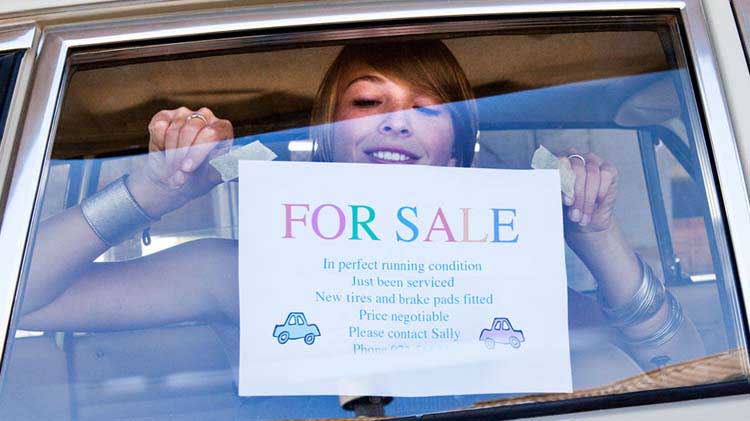 Selling your car on your own instead of to a dealership can seem scary, but it doesn't have to be. If you do your homework, it might actually work out better for you. This is especially true if the vehicle you plan to sell has a high value. Below are some tips to help you along the way.
What paperwork do I need to sell my car?
One of the first, most important steps is to gather all documents associated with the car you're selling. These documents include:
Warranty information - If a warranty remains for the vehicle, provide this to the new buyer.
Bill of Sale - When you create a bill of sale, include:

The sell date
Your name and the buyer's
The car's year, make and model
The negotiated price

If the car is being sold "as is"or if you are providing a stipend for repairs

Title - Based on your state's regulations, you will likely sign off on the title, transferring it into the buyer's name.
Motor Vehicle Department regulations - Depending on the state where you live, you may need an emissions test or an odometer disclosure statement.
How do I get my car ready for sale?
To get the best price for your car, follow the below:
Complete repairs - Servicing small items - such as fluids, brakes, light bulbs, air in tires, windshield cracks, dents, or scratches - can help you get more money for your vehicle. Be sure to retain receipts of repair to show buyers what work's been done.
Clean it - While it may seem obvious, many sellers skip or marginally follow this step. A clean, waxed, and fresh smelling car is most appealing to buyers. So, pay attention to both the car's interior and exterior. Clean out the glove box and trunk. Wipe down all surfaces, especially cup holders. Vacuum thoroughly, and remember to remove all bumper stickers as well as the residue they leave behind.
How much should I ask for my car?
This is one of the hardest parts of selling a used car. Most people don't know where to start when it comes to pricing. First, check out free appraisal tools on the internet. Compare the value of your vehicle as listed on multiple sites. Be realistic when evaluating the condition of your car. Here are some sites that may help:
The bottom line is this: Know the lowest amount you will accept for your car before you start negotiating with buyers.
How do I find buyers for my car?
Another challenging aspect of selling a car on the private market is reaching buyers. How do you get the word out that you have a vehicle to sell? Keep in mind there are services, such as CarMax, that will purchase your vehicle and resell it for you. If you decide to go ahead and sell on your own, watch out for scams and people who may try to take advantage of you.
If you decide to self-sell, one of the best ways to reach potential buyers is through local classifieds sites or various online services. Here you can post photos and a description of your car. You also can buy ad space on sites, such as AutoTrader.com or Facebook (locally), to help sell your car.
How to write a good advertisement
When writing an ad to sell your car, you need to include all the pertinent facts about your vehicle: make, model, year, condition, mileage, price, and photos. You also want to make it stand out in a crowd of similar ads. Be sure to include color and trim; if it has extra features, such as seat warmers or a sun roof; and if it has low mileage, only one owner, or gets great gas mileage.
What buyers want to know
Buying a used car, whether it's from a dealership or a private seller is an investment for anyone. Before making a purchase, they want to know all they can about the vehicle and the seller. Here are a few ways you can help them:
Vehicle History - If your car is an older model, or if you're not the original owner, consider obtaining a Carfax report. This will provide information about the car's history, any accidents, and its maintenance records.
Why you are selling - Buyers will be curious as to why are you are selling the car. Think about how you'll answer and be ready for their questions.
Respond quickly - When you receive a call, text, or email that the buyer is ready to make a purchase, respond quickly with your acceptance or a counter offer. If you're slow to respond, the buyer may perceive it as disinterest or that you don't want to sell.
How do I offer potential buyers a test drive?
Once you've found a potential buyer, you'll want to schedule a test drive. Let the buyer get a feel for how the car handles. Follow these tips below to create a safe test-drive experience.
Screen buyers - Thoroughly vet potential buyers before scheduling a test drive. Speak to the person on the phone and ask them screening questions, such as whether or not they have financing lined up. Take questions from them as well to determine if they're a serious buyer.
Safety in numbers and visibility - Meet the potential buyer in a populated area. Never go on a test drive alone. Ask a friend to join you. Schedule the test drive during the day.
Credentials - Check the buyer's license and proof of insurance before they get behind the wheel.
The test drive is not the time to take payment; but once completed, it's appropriate to begin negotiating the price.
How do I conduct a secure transaction?
Transferring the title also calls for a secure environment. When you're ready to make the sale official, follow the below tips.
Take payment inside the walls of a bank - The safest place to exchange payment is at the buyer's bank. Do not agree to drive the potential buyer to another location, especially if it's to pick up the payment.
Trade the title for the payment - Don't sign or hand over the vehicle title to the buyer until you've received the agreed-upon payment in full. If the payment is not cash, make sure the check or money order is legitimate, or wait for the Venmo payment to deposit in your checking account. If the buyer is paying with a check, go to the Federal Deposit Insurance Corporation (FDIC) website, FakeChecks.org, to verify it is not fraudulent.