Hurricane clean up after the storm
Helpful tips to prevent further water damage, safely begin cleaning up and finding a contractor to help repair damage to your property.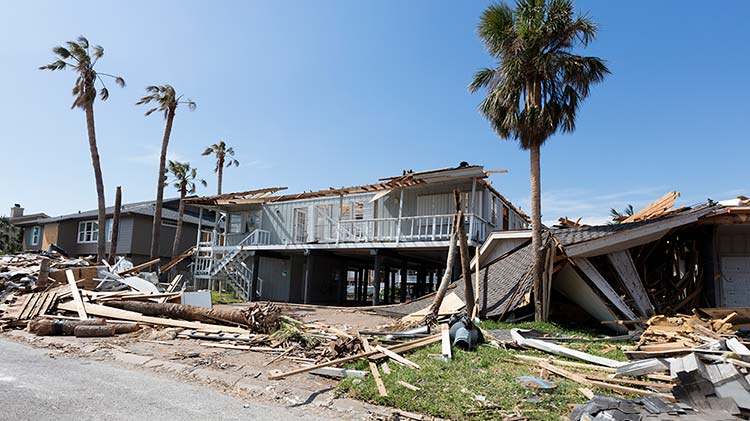 Despite taking proper precautions to prepare your home for a hurricane, damage happens. One of the first questions on your mind may be the following:
Does homeowners insurance cover hurricane damage?
It is important to check with your individual insurer to determine if your house, condominium or rental property is protected in the event of hurricane damage. This could include damage sustained due to the wind and rain caused by the effects of the hurricane. If your home is located in an area of higher hurricane risk, you could encounter a deductible established solely for hurricanes. And typically, flooding is not covered by a homeowners policy. Talk with your agent about how to obtain flood insurance.
If you live in a hurricane-prone area, following the steps outlined here can help shield your property against further wind and water damage and prevent injuries to you or your family while you start the cleanup process.
How to clean up after a hurricane
With the proper safety gear, such as goggles, hard hats, masks, heavy gloves and waterproof boots, begin the cleanup process. But before you begin, you should contact your insurance agent, they may be able to provide assistance or help you in reporting your claim. Also, don't discard or repair anything prior to reporting the claim.
Examine the area for hazards: Before any cleanup, survey the property. If there are any unusual odors, water near electrical appliances or outlets, the structure of the building is questionable or you see any chemicals in the water, check with your local authorities and utilities to make sure it's safe to return.
Begin drying out the building: If you're able, remove only damaged drywall, carpets and pads, and pull off wet baseboards and cabinet kick plates. Keep samples of any carpets that are removed. Leave your home as well ventilated as possible. Document your damage by taking photographs. To help prevent further rain damage, use tarps to cover as much of your property as possible.
Start the cleanup: If you do the cleaning yourself, be careful not to injure yourself or others. Keep track of the time and money you spend protecting your property. If you decide to use a contractor, get a receipt for the cost of labor and materials to give your claim representative. Don't have any repair work done until you discuss them with your claim representative. It may be beneficial to get an estimate first.
Document and photograph everything: To assist with the insurance claim process, be sure to document items that are damaged. You can do this by providing purchase receipts for the damaged items, photographing the items and by making a room-by-room inventory of missing or damaged goods. Include manufacturers' names, dates and places of purchase and prices.

Do not throw out any expensive items, such as large televisions and furniture, until authorized by your claim representative. These items may need to be inspected first.

Safely store personal property: Take all personal property, especially small valuables such as jewelry, to a safe place to avoid theft.
Take special care with antiques and art: Handle antiques, art objects, sterling and brass with special care. Allow them to dry, but don't oil or rub them since this could damage finishes or surfaces.
Clean and dry wood furniture as soon as possible: Be careful not to rub in abrasives such as soil or plaster that may have fallen on the surfaces.
Dry out furniture and bedding: Try to dry bedding and upholstered furniture that have minor water damage. However, bedding that has been saturated should be disposed of. Don't store other possessions near these items.
Dry and clean any carpets and rugs that have minor water damage: Carpet or rugs that have been saturated with water should be disposed of as noted above.
Dry metal objects: To prevent corrosion, dry any metal objects, such as home appliances and drapery rods, then rub or spray with appropriate cleaning solution.
Dry, but don't oil radios, televisions and other electronic devices: Any electronic equipment exposed to water should be professionally serviced before use.
Start repairing storm damage to your property
Once you have cleaned up your property and you are ready to begin repairs, be careful of home restoration scams. Find a qualified contractor to complete any repairs.
It's best to use local and reputable contractors. If there's any problem with repair work, it's much easier to have it fixed by a local firm than one from out of town.
Check your contractor's references by calling your Chamber of Commerce or Better Business Bureau. Make sure contractors have the experience to handle your repairs.
Be sure to agree on payment terms with the contractor before you sign any contract.
Additional hurricane recovery resources
Below are some resources to help you with your recovery.