AUTO
Factors that Influence Car Insurance Rates
If you're shopping for insurance for your car, truck, or RV, it's important to understand that factors such as coverage options, deductibles, and discounts affect your policy cost.
Why Safer Cars Aren't Always Less Expensive to Insure
You'd think that safer cars would mean lower car insurance costs, but as The Wall Street Journal reported in August, 2017, "New cars loaded with high-tech crash-prevention gear are having a perverse effect on car-insurance costs: They are soaring."
Safety features like autonomous braking and lane departure warning in newer cars can reduce the number and severity of injuries, but they also make vehicles more expensive to repair when accidents happen. External mirrors, fenders and bumpers house sensors that help to avoid crashes–and carry higher repair costs than their conventional counterparts.
There are other factors that determine how much you pay for auto insurance. For example, the total annual mileage you drive, changes in your driving record, marital status, your age, and/or moving to a different neighborhood can cause you to pay more for car insurance.
Driving History
There are plenty of reasons to drive safely, but saving money is an especially good one. If you've had speeding tickets or accidents within the last few years, your auto insurance rate will be higher than if you had a spotless driving record. Safe driving pays off – in more ways than one!
Driving Activity
A policyholder who drives only a few miles a week will likely pay less for auto insurance than one who drives longer distances.
Safety Rating
Some vehicles are safer and cost less to repair than others. Insurance companies collect data about each make and model and use it to determine how much to charge its customers.
Vehicle Size
In an accident, larger vehicles tend to fare better – and keep occupants safer – than smaller ones.
Anti-Theft Devices
If your car has an alarm, a tracking device to help police recover it, or another theft deterrent, it's less attractive to thieves, and less expensive to insure, too.
Where You Live
If you live in an area with above average traffic, your auto insurance rate could be higher than if you lived in an area with less traffic congestion.
Age, Gender and Marital Status
Drivers between the ages of 25 and 65 tend to have fewer accidents than those who are younger or older. In addition, studies show that certain individuals have fewer accidents.
Credit History
Studies show a connection between credit characteristics and insurance claims, so many insurance companies use "Credit-Based Insurance Scores" to help determine rates (not applicable where prohibited by law).
Coverage Options
Some insurance – like Liability Coverage – is required by law in most states. The rest is up to you. Your insurance choices and coverage amounts have a major impact on how much you'll pay.
Deductibles
A deductible is the amount you pay before your insurance company covers you. You can lower your auto insurance rates by setting a higher deductible, but you'll pay more out-of-pocket when you make a claim.
Drive Safe & Save™
Enroll in Drive Safe & Save and we'll use information from your smartphone or your vehicle's OnStar® or SYNC® communication service to calculate your discount. Safe drivers save more with Drive Safe & Save.
Steer Clear®
If you're a new driver or under 25 years of age without any at-fault accidents or moving violations within the past three years, you could qualify for Steer Clear. You could save as much as 15% while learning to become a better, safer driver.
Multiple Line Discount
Save up to 17% if you have homeowners, renters, condo, or life insurance in addition to vehicle insurance. Speak with a State Farm agent to see if you're eligible or to learn about additional cost-saving discounts.
Accident-Free Discount
You qualify for this accident-free discount when your car, or the one it replaced, has been insured by State Farm for at least 3 continuous years without a chargeable accident.
Multiple Auto Discount
If two or more vehicles in your household are insurance by State Farm and owned by related individuals, you could save as much as 20%.
Good Student Discount
You can save up to 25% just for getting good grades! And the savings last after you graduate from college, until you turn 25.
Helpful Resources From Simple Insights®
Simple Insights® by State Farm
Take advantage of what we've learned through the years in Simple Insights®.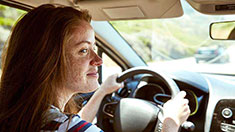 The real consequences of critical driving errors.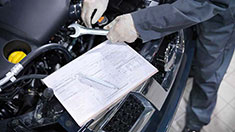 Auto manufacturers recalled a record number of cars. Know how to handle vehicle safety recalls.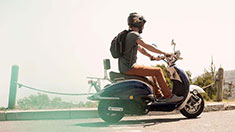 Moped vs. scooter? Here's how to choose.
Disclaimer
Rates, rating factors, and coverages vary by state.
OnStar® is a registered trademark of OnStar, LLC.
SYNC® is a registered trademark of Ford Motor Company.
State Farm Mutual Automobile Insurance Company
State Farm Indemnity Company
Bloomington, IL
State Farm County Mutual Insurance Company of Texas
Richardson, TX