MIND THE RULES. Check your lease or homeowner's association rules about hosting gatherings in your home and/or out on the lawn. If you don't own your home, you need to know the answer to "Can renters throw a party?" before you even consider inviting anyone over.
CHECK YOUR COVERAGE. Even a quiet gathering can sometimes lead to an accident, such as a guest injury or property damage. Contact your State Farm® agent for details about liability insurance.
BE A GOOD NEIGHBOR - REALLY. Let your neighbors know in advance about the event and talk about any issues it could cause with parking. Share your number so they can contact you first with any concerns. Try to confine the meet-and-greet indoors or in the backyard, let guests know where they should park, and make sure any garbage left in your or your neighbor's yard or public spaces like hallways is cleaned up right away. Monitor music and the crowd so you stay within the limits of noise pollution laws.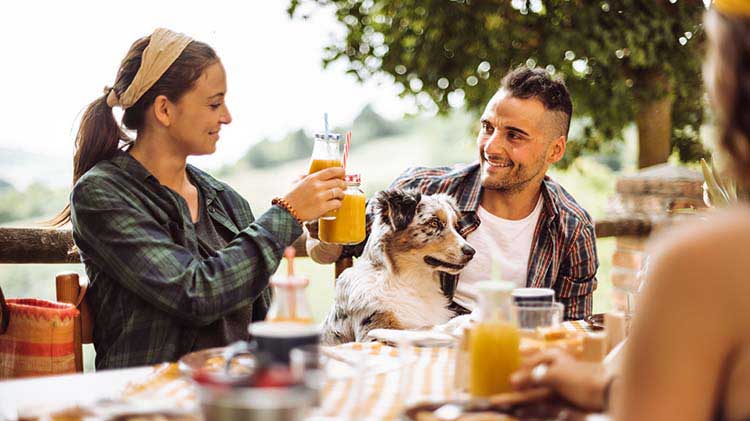 PROTECT YOUR PETS. Strangers and loud noises in a usually quiet home may frighten pets. Reduce their anxiety by crating your pup or putting your cat behind a closed door — especially while guests are arriving and leaving.
STAY FOOD-SAFE. Take special care with your buffet: Wash your hands before prepping, keep raw meat away from other foods, cook foods to proper temperatures, and keep hot foods hot and cold foods cold.
CARE FOR THE KIDS. Unless it's a family focused soiree, hire someone to keep an eye on any little ones.
HOME GUARD. Play it safe: Lock up prescription medications and any electronics or valuables. Also, safely stash guests' belongings (coats, bags) during the party.
MONITOR THE DRIVE HOME. At least one hour before the party wraps up, stop serving alcohol and serve additional snacks. Organize rides or ride shares as necessary.