BANK PAYMENT OPTIONS
Making a Vehicle Loan Payment? You Have Options.
Vehicle Loan Payment Options
Want to make a car payment? Or a payment on your truck or RV loan? Whatever kind of Vehicle Loan you have, making payments is fast, easy and secure with State Farm Bank. And best of all, you pick the payment method that works for you. From online payments with — or without — a State Farm Bank account, to payments over the phone or by mail. You're in charge.
previous Photo
Make a Payment Process with a Bank Account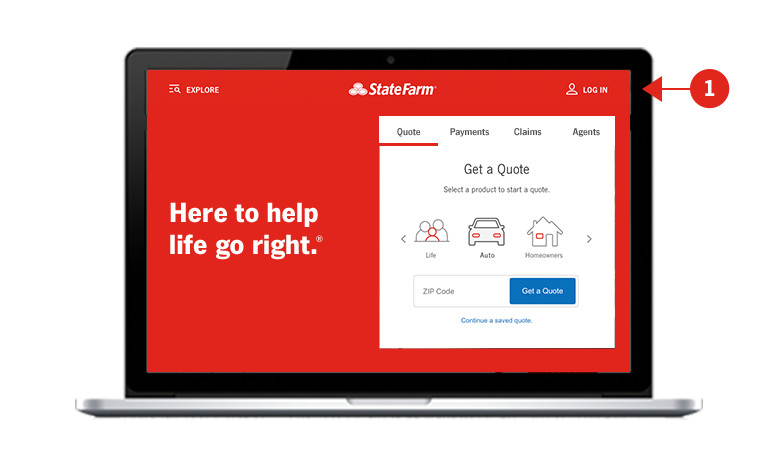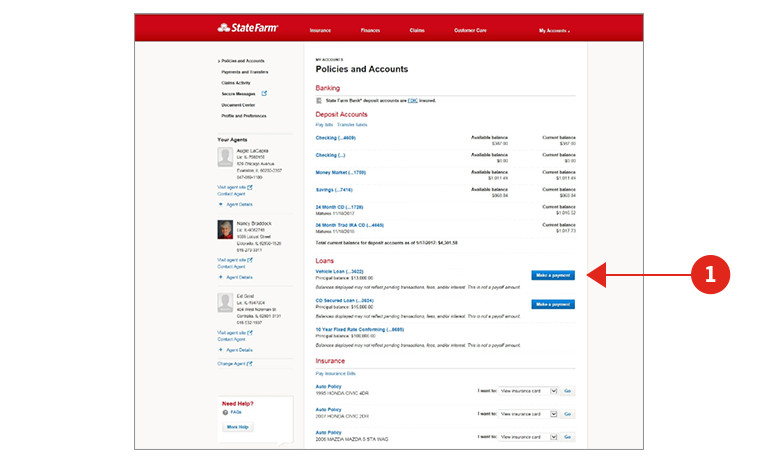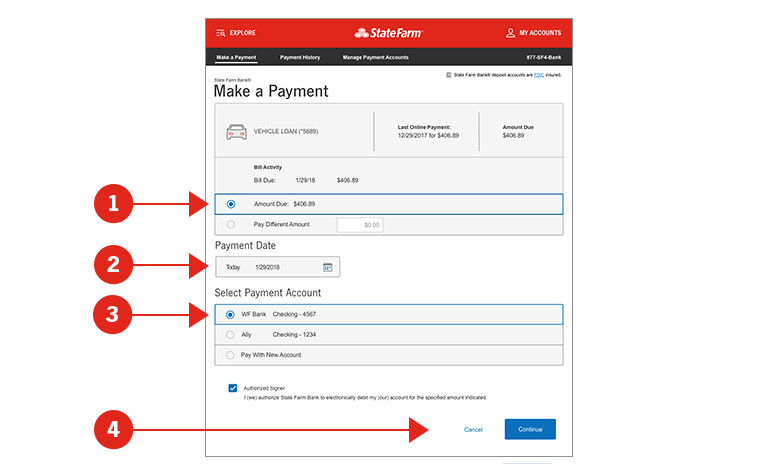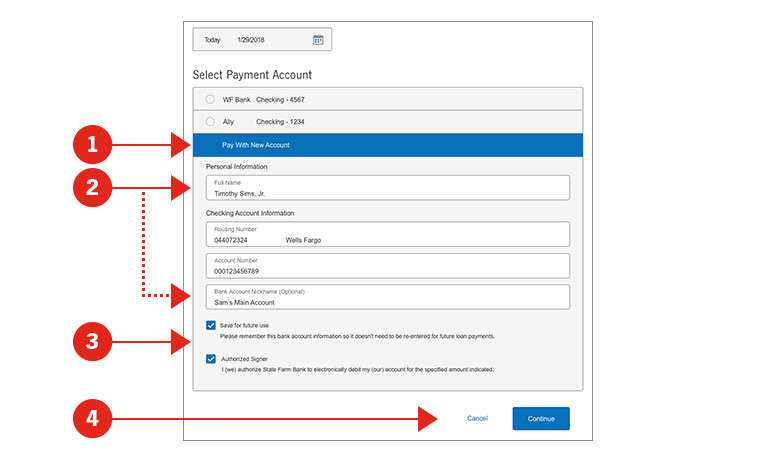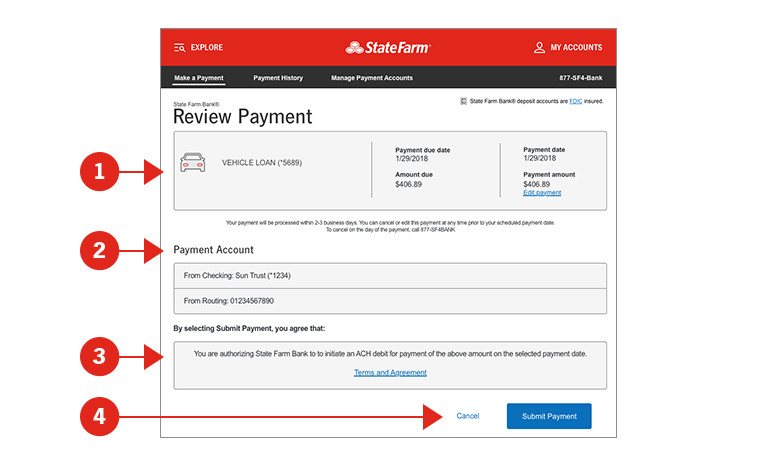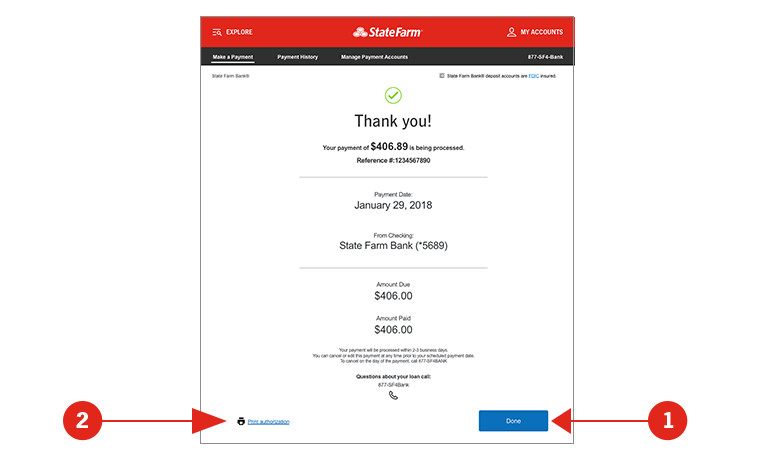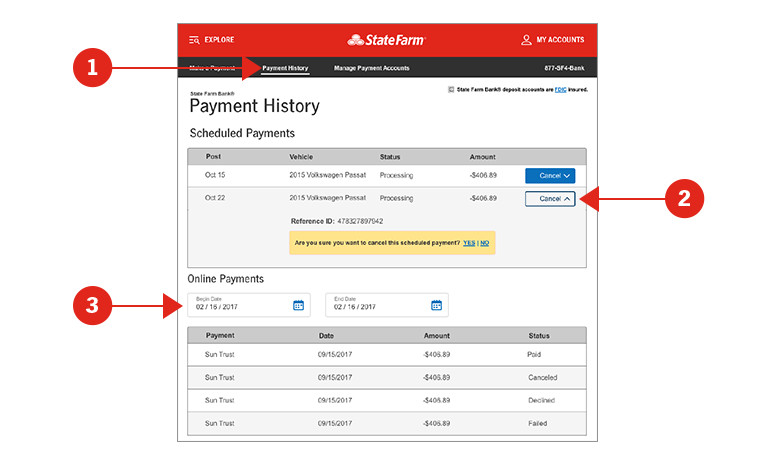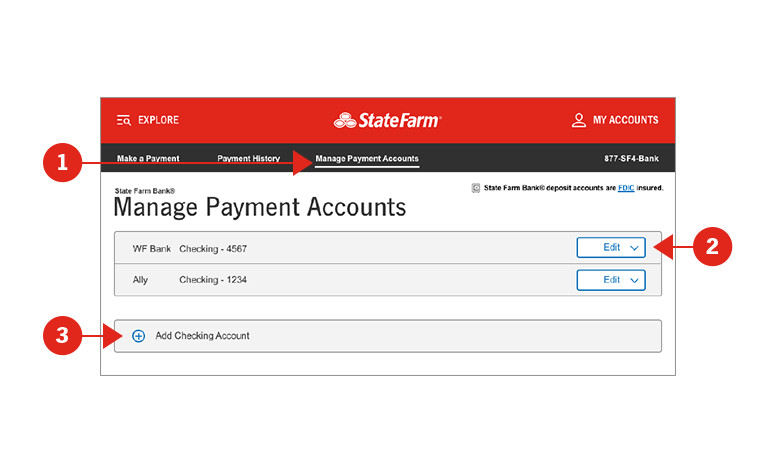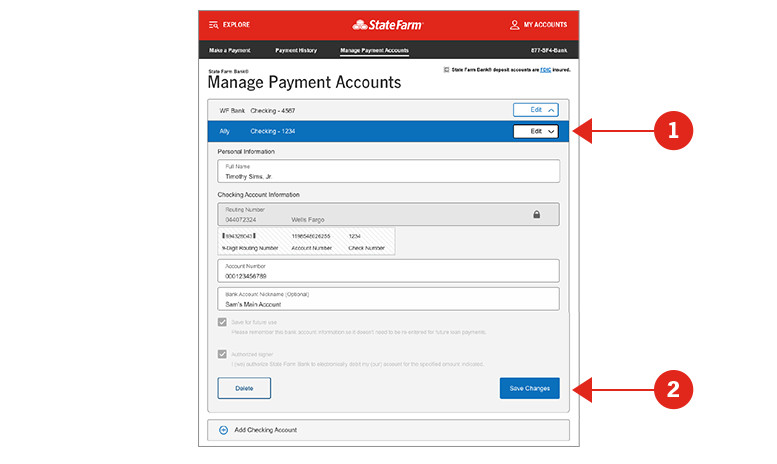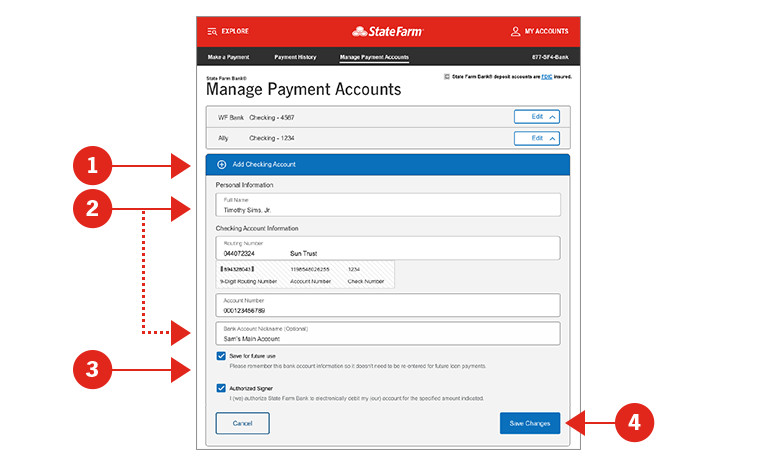 next photo
Pay Using Your State Farm Loyalty Rewards® Points
You can use your State Farm Loyalty Rewards points* to make car payments. Just log in to your account and click "Redeem State Farm Points" under the credit card. Or call 877-SF4-VISA (877-734-8472).
Learn about Loyalty Rewards
*You must have at least 2,500 points to make a redemption and you cannot apply points to your bill if it's less than 5 calendar days before the due date.
Vehicle Loan Payments/Payoffs With Coupons - Regular Mail
State Farm Bank
P.O. Box 3299
Milwaukee, WI 53201-3299
Vehicle Loan Principal Only Payments, or with Special Instructions
State Farm Bank
P.O. Box 5961
Madison, WI 53705-3298
Vehicle Loan Payments Without Coupons or Other Correspondence - Regular Mail
State Farm Bank
P.O. Box 5961
Madison, WI 53705-0961
Vehicle Loan Payments/Payoffs Overnight Payment or Special Instructions
State Farm Bank
ATTN: Loan Servicing
2535 Daniels Street
Madison, WI 53718
Pay By Phone
877-SF4-BANK (877-734-2265)
Use our Interactive Voice Response system to make a car payment by phone. When the system asks why you are calling, say "Make a Payment."
Automatic Payments
To set up automatic car loan payments using a State Farm Bank account, or an account at another bank, complete and mail the Automatic Payment Plan [PDF-640.1KB] form along with a voided check or savings deposit slip to this address:
ATTN: Loan Services
State Farm Bank, F.S.B.
P.O. Box 5961
Madison, WI 53705
Or fax these items to 800-420-8124.
When faxing, please include a cover page and send to the attention of "Loan Servicing."
You don't need to send a voided check or deposit slip if you're paying with a State Farm Bank deposit account, and we'll stop your automatic payments when your loan is paid in full.
Additional Payment Options
Make a one-time online transfer from a State Farm Bank Home Equity Line of Credit (HELOC) to your Vehicle Loan account: Call 877-734-2265
Western Union: Call 877-734-2265 for Western Union instructions
Western Union service fees may apply
MoneyGram: Call 877-734-2265 for MoneyGram instructions
MoneyGram service fees may apply
Wire transfer: Call 877-734-2265 for wire instructions
Fees may be assessed by originating financial institution
Want more information? Visit our Account Help page.
Visa is a registered trademark of Visa International Service Association.
State Farm Bank, F.S.B., Bloomington, Illinois ("Bank"), is a Member FDIC and Equal Housing Lender. NMLS ID 139716. The other products offered by affiliate companies of State Farm Bank are not FDIC insured, not a State Farm Bank obligation or guaranteed by State Farm Bank, and may be subject to investment risk, including possible loss of principal invested. The Bank encourages any interested individual(s) to submit an application for any product(s) offered by the Bank. We also encourage you to obtain information regarding the Bank's underwriting standards for each type of credit or service offered by visiting statefarm.com® or by contacting the Bank at 877-SF4-BANK (877-734-2265). If you are deaf, hard of hearing, or do not use your voice to communicate, you may contact us via 711 or other relay services. To apply for a Bank product, you may also see your participating State Farm Agent.