COMMUNITY INVOLVEMENT
State Farm Companies Foundation
State Farm Companies Foundation was established in 1963 as an independent private foundation funded by the State Farm Mutual Automobile Insurance Company. The Foundation provides support for key initiatives and scholarships, as well as associate-directed programs, including grants supporting volunteerism and matching gifts to charitable organizations and two- and four-year colleges and universities. These programs support the communities where State Farm® associates live and work.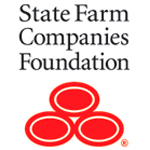 Scholarship Programs
State Farm Companies Foundation does not provide scholarships directly to individuals. We provide funding to national, established scholarship programs such as National Merit Scholarship Corporation.
National Merit $2500 Scholarships: These are one-time, nonrenewable awards of $2,500 made to high school seniors who qualify as Finalists in the annual National Merit Scholarship Program. For more information, please visit nationalmerit.org or contact National Merit at 847-866-5100.
State Farm Companies Foundation Scholarship: One hundred scholarships, ranging from $3,000 to $8,000 per year up to four years of college undergraduate study, are awarded to academically talented legal dependents of eligible State Farm associates, agents and retirees every year. The amount of the award takes into account the college educational costs, family circumstances, and other scholarship aid the winner receives.

Matching Gift Program
The State Farm Companies Foundation Matching Gift Program encourages State Farm associates to support higher education and charitable organizations. The Foundation matches limited individual charitable contributions made by eligible State Farm associates and retirees to qualifying colleges and universities as well as qualifying charitable organizations.
Good Neighbor Grant® Program
Through the Good Neighbor Grant Program, the State Farm Companies Foundation awards a $500 grant on behalf of each eligible State Farm associate or retiree who volunteers a minimum of 40 hours a year to an eligible nonprofit organization.
Associate Login to the Good Neighbor Grant program
The State Farm Companies Foundation and State Farm value inclusiveness and diversity. Therefore, charitable funding is intended to advance access, equity, and inclusiveness while discouraging harmful discrimination based on age, political affiliation, race, national origin, ethnicity, gender, disability, sexual orientation or gender identity, or religious beliefs.
Through its various programs, the Foundation provides grants to other tax-exempt organizations. The Foundation expects these organizations and their leadership to comply with all laws, to follow high ethical standards, and to have strong internal controls. This includes:
Mission statement outlining purpose and goals
Compliance with established guidelines for its charitable purposes
Business practices that monitor and enforce ethical standards of all persons associated with the organization
Satisfy appropriate background checks when children are included in programs
Good stewards of grant funds through internal controls and oversight
Adequate safeguards to avoid conflicts of interest
State Farm (including State Farm Mutual Automobile Insurance Company and its subsidiaries and affiliates) is not responsible for, and does not endorse or approve, either implicitly or explicitly, the content of any third party sites hyperlinked from this page. State Farm has no discretion to alter, update, or control the content on the hyperlinked, third party site. Access to third party sites is at the user's own risk, is being provided for informational purposes only and is not a solicitation to buy or sell any of the products which may be referenced on such third party sites.