LIFE
Plan Ahead with Universal Life Insurance
Universal Life insurance is a permanent policy that allows you the flexibility to customize the coverage and premiums that meet your needs.

Universal Life
A Universal Life insurance policy from State Farm® changes along with your life. This flexible policy lets you raise or lower your coverage-and your premiums-to fit your needs. It even builds cash value you can use during your lifetime.
Eligibility
Premium Duration
Lifetime
Coverage Limits

Starting at $25,000 for ages 0 to 19

Starting at $50,000 for ages 20 to 54

Starting at $25,000 for ages 55 to 85

Issue Ages
0–85
Flexibility - you decide the amount of premium payments subject to minimums.
Your premiums (after an expense charge) are added to your account value.
Every month, the cost of insurance for the policy and any riders, and any monthly expense charge are deducted from your account value.
Interest is credited to your account value; the current interest rate may change monthly, but will never be less than the guaranteed rate stated in the policy when you purchased it.
The cash value grows tax-deferred. Cash values can be accessed during your lifetime.2
No matter how large your death benefit, it passes to your beneficiaries generally income tax-free.
Death Benefit Options
There are two death benefit options you can choose with a Universal Life insurance policy.
Option 1
Provides a level death benefit equal to the Basic Amount of life insurance you choose.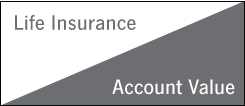 Option 2
Provides a death benefit that varies with your policy Account Value. Your death benefit is the amount of life insurance plus the policy Account Value.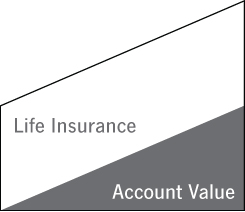 Customize Your Policy
Add value to your policy with options and riders.
Disclosures
1 Increases in coverage are subject to underwriting and policy limits. Decreases in coverage are subject to policy limits.
2 Only four withdrawals are allowed per year ($500 minimum per withdrawal). Surrenders may be subject to a surrender charge. Unpaid loans and withdrawals will reduce the death benefit and the policy's cash value. Withdrawals also will reduce the policy account value/cash surrender value. Loans accrue interest.
This is a general description of coverage. A complete statement of coverage is found only in the policy.
For more details on coverage, costs, restrictions, and renewability; or to apply for coverage, contact your local State Farm agent.
Insurance policies and/or associated riders and features may not be available in all states, and policy terms and conditions may vary by state.
No Bank Guarantee
May Lose Value
Issued by:
State Farm Life Insurance Company (Not licensed in MA, NY or WI)
State Farm Life and Accident Assurance Company (Licensed in NY and WI)
Bloomington, IL
Each insurer is financially responsible for its own products.
IL–201