COMMUNITY
Newport Coast School Receives YAB Award
The State Farm® Youth Advisory Board, in partnership with State Farm, awarded Sage Hill School in Newport Coast $73,900 for a student-driven project focused on environmental responsibility at their Organic Educational Center.
Local State Farm agents were on hand for the presentation of the check and recognition of involved students in a morning assembly on October 17. Jason Gregory, Sage Hill director of community life and public purpose, expressed gratitude to State Farm for their part in helping Sage Hill expand their public purpose through the use of the organic garden. "There is simply no substitute for the ability to interactively teach a 3rd grade student how to plant, care for, and harvest their own organic food in an environmentally responsible manner," he said.
Students cheered when Spenser Apramian, who was responsible for working on grant submission, spoke about his commitment to health, service, and the environment. He thanked the Youth Advisory Board for supporting the project at the school, and for believing in the community efforts that young people are passionate about.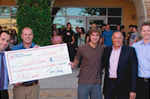 The State Farm Youth Advisory Board is a diverse group of 30 youth, ages 17-20, who were chosen through a competitive process to lead and oversee the nationwide use of $5 million per year in signature service-learning initiatives. The Youth Board, who identified the issues and issued the competitive grants, will now provide technical assistance, communication and oversight to site grantees.
The board awarded over $325,000 for youth-led, service-learning based projects to six organizations in California. The grants awarded for projects focused on disaster preparedness, teen driver safety, environmental responsibility, and access to higher education.
The Youth Advisory Board was first established in 2006. For more information visit www.statefarmyab.com.
About Sage Hill School
Sage Hill School is Orange County's only not-for-profit, independent, non-sectarian, co-ed college preparatory high school, located on thirty acres in Newport Coast, California. Founded in 2000, the school aims to transform the lives of its students by inspiring a love of knowledge and the ability to use that knowledge creatively, compassionately and courageously throughout their lives. For information please visit www.sagehillschool.org.