COMMUNITY
Volunteerism
State Farm™ Community Volunteers
State Farm Community Volunteers are working together to help build stronger, safer, better educated communities. Our mission emphasizes what we're all about — building strong communities, communities we can and want to do business in.
Our goal is to strengthen existing relationships and develop new ones with nonprofit organizations that meet our philanthropic focus areas. Many community organizations have come to rely on monetary contributions from corporations. And in the past, a check or in-kind contribution was enough. Today, however, we have an opportunity to utilize our strongest resource — State Farm associates — to demonstrate our support for these organizations.
Objectives of Community Volunteers:
Participate in and coordinate a signature program in all regions
Become "One Voice" in our communities
Provide high visibility and branding for State Farm through a unified volunteer network
Enable associates to take a leadership role in State Farm-sponsored projects
Strategically focus our volunteer efforts
Perpetuate the "Good Neighbor" image through volunteerism
Child Passenger Safety Day
For decades, safety advocates have stressed the importance of using car seats, booster seats, and seat belts for children riding in automobiles. Yet motor vehicle crashes remain the leading cause of death for children between the ages of 2 and 14 in the United States.
We are committed to protecting children in motor vehicles and continue to support child passenger safety awareness and education in communities.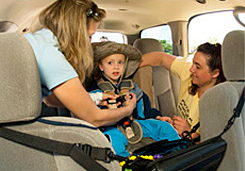 There are precautionary measures parents can take to ensure that their children are riding safely in vehicles. When used correctly, child restraints effectively reduce the risk of death and serious injury in a crash. In order to help parents learn about the correct use of child restraints, the State Farm Community Volunteers (SFCV) network hosts Child Safety Day events across the nation in the months of May and September. At this "car seat inspection day", parents and caregivers are taught how to properly buckle up their children by certified Child Passenger Safety technicians.
Following the best practices for buckling up children is crucial to preventing devastating injuries and death. The Child Safety Day events provide a great opportunity for parents and caregivers to become educated about these practices.
See Child Passenger Safety for more detailed information about the best practices for buckling up children.
Our ten-year collaboration with The Children's Hospital of Philadelphia®, known as Partners for Child Passenger Safety (PCPS), was the largest research study of its kind ever conducted in the United States. The project studied how and why children were killed and injured in crashes and offered solutions to policymakers and industries to better protect children.
For research findings, please visit chop.edu/carseat.