State Farm ® Mobile App
Always here to help.
The State Farm mobile app, which replaces Pocket Agent ®, helps you manage your insurance and banking accounts with ease, get roadside assistance, file a claim, and more.
See for yourself! Download the State Farm mobile app today.
Just another way we're here to help life go right. ®
Text MOBILE to 78836 to get a link to the app.
State Farm Mobile Features
Manage Your Insurance Policies
View a list of your policies and more - all in one place!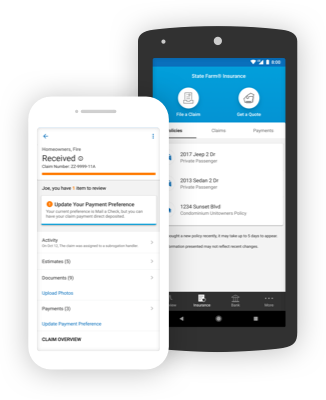 File and Manage Claims
Start your claim and take care of the details with ease.
Access Your ID Cards Footnote *
You don't have to search all over for your ID cards anymore. Access them when you need them.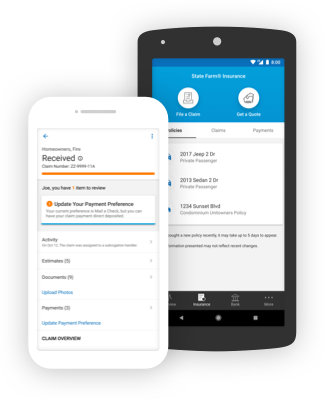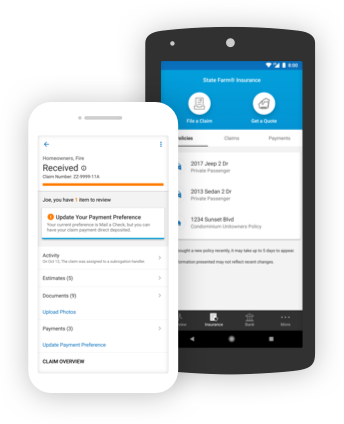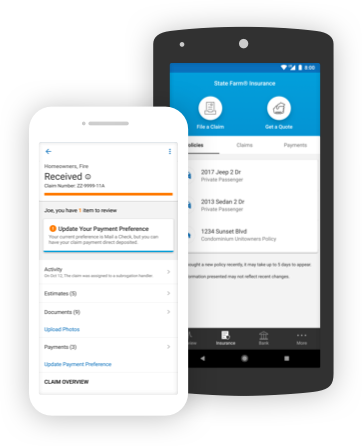 Get Roadside Assistance
Whether you need a tow, a jumpstart, or a locksmith, help is just a few taps away.
Upload Photos and Documents
Send us photos and documents directly from your phone to expedite your claims process.
Connect With Your Agent
Your agent is here to help whenever you need to talk to someone directly.
Handle Your Banking
In addition to managing your insurance, you can keep tabs on your State Farm Bank accounts as well.
Pay
Pay your bills from the app to stay on top of things.
Deposit
Make deposits directly from your smartphone.
Transfer
Transfer money between your State Farm Bank accounts whenever you need to.
Save Money on the Products and Services You Love With Community Offers
Check out Community Offers in the app to save money at participating local businesses! What's the catch? There's no catch, no survey to fill out, and no obligation. You don't even have to "like" us on social media (but feel free).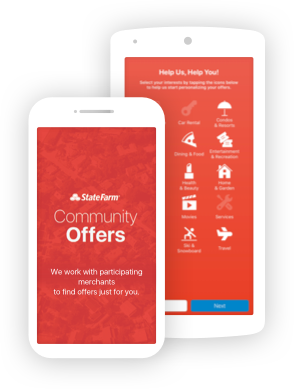 Getting Started is Easy
1
STEP 1
Get The App
Get the State Farm mobile app - text MOBILE to 78836 for a link or find it in the Apple or Android stores.
2
STEP 2
Sign In
Sign in with your State Farm username and password. If you aren't registered on statefarm.com, you can register on the app.
Support
For technical assistance call 888-559-1922, available 24/7. Have questions? Check out our FAQ page.
Steer Clear ®
Our Steer Clear app reinforces good driving habits in young drivers and helps them earn a valuable discount. View Details
Drive Safe & Save ™ Mobile
Drive Safe & Save mobile collects basic information about your driving that may earn you a discount and save you some money. View Details
Reference to footnote* This may not be accepted by law enforcement officials as an insurance ID card in your state.
Compatible mobile phone required; enrollment and terms and conditions apply.
State Farm Bank, F.S.B., Bloomington, Illinois ("Bank"), is a Member FDIC and Equal Housing Lender. NMLS ID 139716. The other products offered by affiliate companies of State Farm Bank are not FDIC insured, not a State Farm Bank obligation or guaranteed by State Farm Bank, and may be subject to investment risk, including possible loss of principal invested. The Bank encourages any interested individual(s) to submit an application for any product(s) offered by the Bank. We also encourage you to obtain information regarding the Bank's underwriting standards for each type of credit or service offered by visiting statefarm.com ® or by contacting the Bank at 877-SF4-BANK (877-734-2265). If you are deaf, hard of hearing, or do not use your voice to communicate, you may contact us via 711 or other relay services. To apply for a Bank product, you may also see your participating State Farm agent.
Discount offers provided by merchants through the State Farm Community Offers program are available to eligible Footnote [1] State Farm insurance and State Farm Bank ® customers. Products and services are offered by third parties and State Farm does not warrant the merchantability, fitness, or quality of the products and services of the third parties.
Reference To Footnote [1] Eligibility requires a customer to have at least one of the following active policies; auto, renters, homeowners, or a State Farm Bank ® product. Eligibility in Alaska, North Dakota, South Dakota, Pennsylvania, and New York requires a customer to have a State Farm Bank ® product. Indiana customers are eligible with an active auto policy or State Farm Bank ® product. Community Offers is not available in Massachusetts and Rhode Island. Footnote⤶
State Farm ® (including State Farm Mutual Automobile Insurance Company and its subsidiaries and affiliates) is not responsible for, and does not endorse or approve, either implicitly or explicitly, any third party products or the content of any third party sites referenced in this material. State Farm has no discretion to alter, update, or control the content on the third party sites. Any references to such sites are provided for informational purposes only and are not a solicitation to buy or sell any of the products which may be referenced on such third party sites. State Farm does not warrant the merchantability, fitness, or quality of the third party products referenced in this material.