Home & Property
Home Insurance Resources
These home insurance resources include a home inventory tool, home insurance calculator and other information that may help you protect your Home and Property.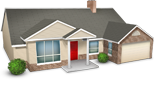 State Farm HomeIndex® Home Inventory Tool
Without walking from room to room, could you make a list of everything in your home—all of your furniture, electronics and other valuables? It might be harder than you think. But with the State Farm HomeIndex tool, you can create a home inventory to help you keep track of your belongings and be better prepared in the event of a fire, burglary or other emergency.
The State Farm HomeIndex tool is a fast and easy way to document your things at no charge. Using your smartphone, tablet or computer, you can:
Create and edit your home inventory any time by uploading pictures and adding or removing details
Email your State Farm HomeIndex inventory to anyone you want—your State Farm® agent, a family member or yourself
Estimate how much insurance you need by better understanding the value of your belongings
Create labels for moving or storing items using our Pack and Label system
Get Started:
If you're a new State Farm customer or don't have an online account, register here*.
Or, if you're already a State Farm customer and have an online account, get started by logging in.
Once logged into your account, ensure you're on the Policies and Accounts section
Click on "Make a home inventory" link within the Tools section and start documenting your belongings today!
*State Farm HomeIndex is approved for registered US customers only.
Calculators
There are many factors that affect the financial decisions you make for your Home and Property. The following tools can help you better understand insurance costs, mortgage payments, and more.
Simple Insights® by State Farm
Take advantage of what we've learned through the years in Simple Insights®
Videos: Tips for Homeowners
View these videos for valuable information and suggestions on Home and Property safety, maintenance and repairs:
Thawing Frozen Pipes
Preventing Water Damage
Efficiency of a Home Sprinkler System
Disclosures
The information in this article was obtained from various sources not associated with State Farm. While we believe it to be reliable and accurate, we do not warrant the accuracy or reliability of the information. These suggestions are not a complete list of every loss control measure. The information is not intended to replace manuals or instructions provided by the manufacturer or the advice of a qualified professional. Nor is it intended to affect coverage under any policy. State Farm makes no guarantees of results from use of this information.
State Farm (including State Farm Mutual Automobile Insurance Company and its subsidiaries and affiliates) is not responsible for, and does not endorse or approve, either implicitly or explicitly, the content of any third party sites hyperlinked from this page. State Farm has no discretion to alter, update, or control the content on the hyperlinked, third party site. Access to third party sites is at the user's own risk, is being provided for informational purposes only and is not a solicitation to buy or sell any of the products which may be referenced on such third party sites.
State Farm Fire and Casualty Company
Bloomington, IL
State Farm General Insurance Company
Bloomington, IL
State Farm Florida Insurance Company
Winter Haven, FL
State Farm Lloyds
Richardson, TX
State Farm County Mutual Insurance Company of Texas
Richardson, TX