Tips to help in preparing for a hurricane
Use the following tips to help strengthen your home, prepare your property, and help protect your family during a hurricane.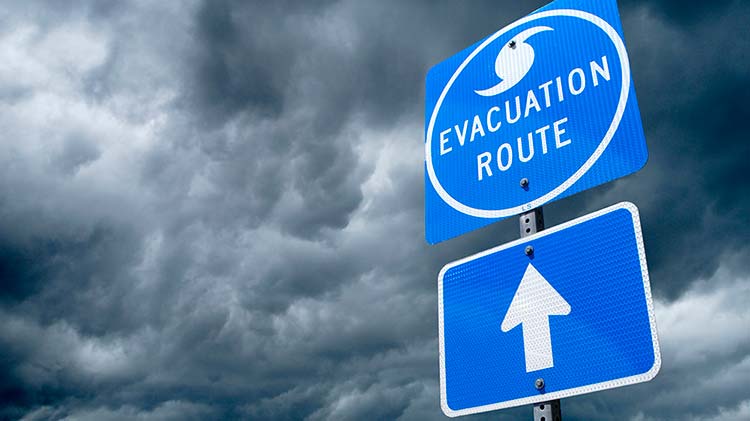 The destructive force of a hurricane should never be taken lightly. These powerful storms can unleash devastating winds, torrential rains, storm surges and tornadoes causing extensive damage. And while you can't stop a hurricane from coming, you can strengthen your home against its brutal force. Here are some actions you can take to help protect your property, and possibly even save your life.
Preparing your house for a hurricane
Before a hurricane hits, add strength to the structure of your home to help prevent wind and water damage. And if a hurricane evacuation order is given, go to a shelter as directed by local authorities. Learn more about preparing a hurricane evacuation plan.
Tips to prepare your doors and windows
Make sure your shutters are working properly and fit securely.
Install impact resistant permanent shutters that meet state building code approved standards. Impact resistant windows, shutters and doors should have a proof of compliance identified on a sticker or label, or imprinted into the product. You can also install permanent fasteners so protective panels (such as ¾' plywood) can be quickly put in place.
Install hurricane-resistant entry doors.

All entry doors should have three hinges and a dead bolt lock with at least a one-inch bolt throw length.
Shuttering the doors might provide extra protection.
If you have double-entry doors, secure the inactive door with head and foot bolts that extend through the door header and into the subfloor.
Door framing should be securely anchored to the wall structure using fasteners that are at least three inches long.
Patio doors should be made of tempered glass.
Tips to prepare your basement
Fill cracks with hydraulic cement, and coat walls with waterproof masonry cement.
Check your sump pump and make sure it's ready for the storm.
Tips to prepare your garage and garage doors
Install hurricane-resistant garage doors or use a steel bracing kit to support the door against wind pressure.
Consider protecting your garage door with a shutter or screen rated for wind pressure and debris impact.
Tips to prepare your roof and shingles
Hurricane-force winds can cause shingles to peel off, especially if edge shingles are not well secured or the adhesive on their tabs has failed. A roofing professional can evaluate your roof and suggest improvements.
Attach hurricane clips at the studs and rafters
To help anchor the soffits, the exposed siding under your roof rafters, to your home, it's recommended to have a professional apply a bead of polyurethane sealant between the wall and the trim into which the soffit panels are inserted and possibly use stainless steel screws.

You can also apply a dollop of caulk in the V-shaped hole where the joint between two soffit panels meets the trim.
If you are installing a new roof:

Ask a roofing professional to set extra roofing cement under shingles to keep them in place during a hurricane.
Consider using impact-resistant roofing materials for added protection.
Tips to prepare your home's foundation
Add caulk to any cracks or holes where cables, pipes or wires enter your home. If you have a pool, cover the pump filter.
Any cracks or holes where cables, pipes or wires enter the home should be sealed with caulk.
Ensure your exterior property is prepared for the hurricane as well
Store any non-secure items or non-structural elements from around your property in your home or garage, such as:

Patio furniture
Grills
Garbage bins
Porch swings
Landscaping ornaments, such as sculptures or bird baths
Consider replacing gravel or rock landscaping materials with shredded bark.
Trim trees and bushes to make them more wind resistant.
Clear gutters of any debris so water can flow freely.
If you live in a mobile home, inspect all straps and tie-downs for wear and have repairs made if necessary.
If you are leaving an RV or a vehicle, try to store it in a garage or secured facility.
If you have a boat, moor it securely. If your boat is ashore in a jack stand, strap the boat down when possible. Discover more tips to protect your boat during a hurricane.
You should also consider flood insurance because a standard home insurance policy doesn't cover damage caused by a flood. Flood insurance is available through the U.S. Government's National Flood Insurance Program, and can be purchased in participating communities. Insurance agents like those at State Farm® that are enrolled in the NFIP Direct Program can write and service flood insurance coverage directly through the federal government. There is generally a 30-day waiting period for the policy to go into effect.